Toy Story 3 Full Trailer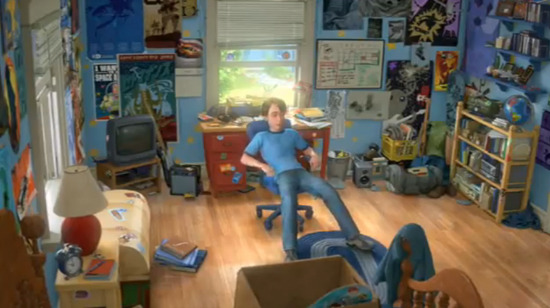 [Update:The real trailer is now online at MySpace. You can check out the embed below, or head there for an HD version.]
I'm sure this isn't meant to be on YouTube quite yet, but the full Toy Story 3 trailer is up now...we'll see how long this version lasts. But while it does, the trailer looks and sounds great, even to an old Randy Newman-dismissing curmudgeon like me. Check it out after the jump.
If you've not been following news on the film, it has been fairly well-known that the story would follow what happens to Woody, Buzz and the other toys when Andy goes to college and his old box of toys is donated to a day-care center. That's the basic thrust of this trailer: we get a nice little time-capsule montage of the toys' life with young Andy, and then a cut to a really beautifully animated version of young adult Andy. (Still voiced by original actor John Morris.)
But after that opening segment, which is set to a sugary bit of Randy Newman songcraft, the trailer kicks into gear. "Let's see what we're going for on Ebay," is the first line that suggests this will be both a casually entertaining and sharp flick. Then there's the requisite montage of misuse by rugrats at the day care center, and a little problem with Buzz's language settings that will obviously generate a big series of jokes. Who doesn't dig a flamenco dancing astronaut?
Throughout, the animation looks wonderful. I don't know why I'm so impressed with the couple shots of 18-year old Andy; I think there's something in his movement that really captures that age really well. Pixar's human animation has become better and better, but this is the least cartoonish stuff they've done yet, and the little taste here looks great.
Here's the MySpace embed. Head there to see a much better-looking HD version.