Saw Production Company Takes Over The Texas Chainsaw Massacre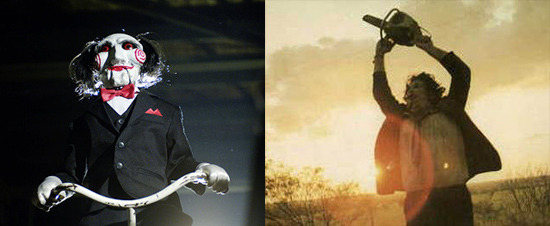 You want the rights to some of the classic horror franchises to escape the clutches of Michael Bay's Platinum Dunes? Be careful what you wish for.
A lot of people really don't like the Platinum Dunes horror remakes. Easy enough to understand; hell, as far as I'm concerned there are only two real Texas Chainsaw Massacre movies, and they both have Tobe Hooper's name on the director's card. But people who will see and complain about the Dunes films won't even touch the Saw franchise. (Which leads me to wonder just who is seeing the Saw movies to make them successful. Damn kids!) Where does that leave fans of a series like The Texas Chainsaw Massacre, which is now passing from Platinum Dunes into the hands of Saw's Twisted Pictures? More to the point, will we ever have to suffer through the marketing for a Texas ChainSAW Massacre?
Variety reports that Twisted is closing in on a deal to take over the Chainsaw rights. And while the Dunes film were period pieces meant to be remakes with some sort of resemblance to the original film, Twisted's plan is to make a modern version of the story...in 3D. The Grudge's Stephen Susco will write. The company is partnering in the deal with Lionsgate, which has very happily released all the Saw movies to date.
For the two recent films, Platinum Dunes had made per-picture deals with Chainsaw rights holders Bob Kuhn and Kim Henkel. But Dunes couldn't make a deal that worked this time, so Twisted stepped in. This deal will be for multiple films; one would expect that Twisted was able to make a multiple picture deal based on proof that it has leveraged the woeful Saw franchise into the little shop of horrors that could. Will we now see a new Chainsaw film every year for the next few years? Oh, lord.