Kevin Smith Finds Funding For Red State? Will Wil Wheaton Hit Somebody?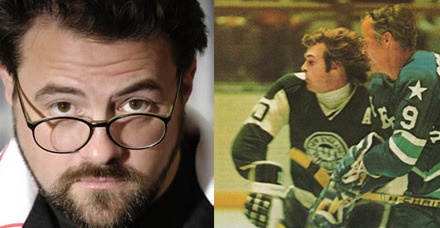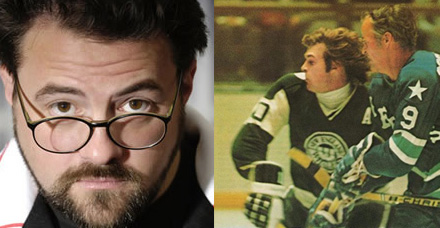 It's been two and a half years since Kevin Smith first mentioned plans of writing and directing a low budget horror movie.  But is has been over a year since Red State was given a pass by The Weinstein Co. Havey Weinstein called the film "quite disturbing and challenging, a departure from" Smith's previous screenplays. Smith has also said that the project is "decidedly non-commercial, it's really f'n bleak and dark, so bleak that it makes The Dark Knight look like Strawberry Shortcake." I've always assumed that this project would never get made... but today there is an update.
Smith is in London doing press for his new book Shooting the Sh*t with Kevin Smith: The Best Of Smodcast, and has revealed to DenOfGeek that he might have finally found funding for the horror film: "I got a call at 2am last night. I think we've got the money for Red State." It isn't clear if Red State will be his next project, or the recently buzzed about Hockey drama Hit Somebody. But one thing is for sure, there is now new hope for Smith's horror film.
And speaking of Hit Somebody, Smith recently hinted on Twitter that Wil Wheaton (Star Trek: The Next Generation, Stand By Me) would be one of the cast members in his upcoming Hockey adaptation.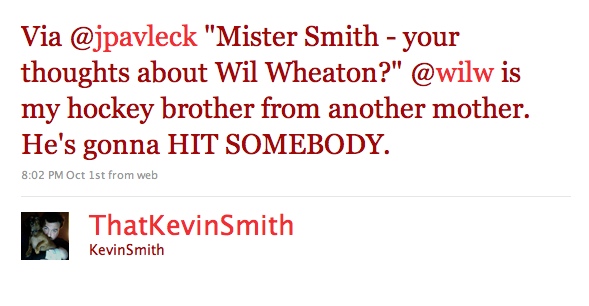 Based on the Warren Zevon song, Hit Somebody (The Hockey Song), which was co-written by sportswriter and Tuesdays with Morrie author Mitch Albom, and featured the backing by The Late Show's CBS Orchestra, anchored by Paul Shaffer. The song Hit Somebody (The Hockey Song), has been one of Smith's favorites for years, and he's always wanted to make a movie based on it.
The film tells the story of Buddy, a guy who loves Hockey and wants to play professionaly . And he gets a chance to play Hockey but not the way he wanted to. Buddy is insanely passionate about the sport, but no damn good. Buddy's way in is that he can fight. He gets into the WHA (World Hockey Association) and becomes the guy who never will get the glory, "the dude who fucking hits the guy so that the kid over there can take the puck to the net."
Smith recently told The Huffington Post that he hopes that Hit Somebody is akin to a Forrest Gump of sports movies, but not as ambitious.