First Look: Promo Art For Ong Bak 3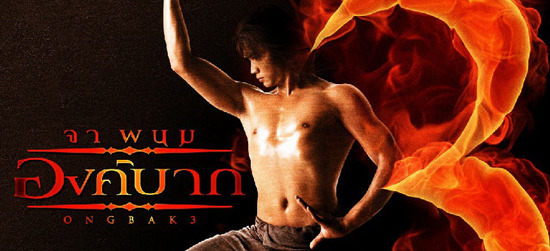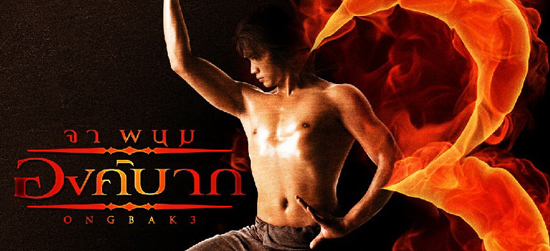 Ong Bak 2 has barely had time to register in North America, recently premiering at the Toronto Film Festival and soon to be part of Magnet's Six-Shooter Film Series. But a third film is already in production, and the first teaser art for Ong Bak 3 has been released. It has a big '3' written in fire, so yeah, that's awesome. Twitch has the new image, and because Tony Jaa looks a bit different in this image than he did in the art for the second film, they theorize that, once again, this isn't a direct sequel, or possibly even a related sequel to other of the existing movies. Which is fine, really, because the only reason to see these films is to watch Jaa beat the hell out of thugs and elephants, and he can do that anywhere, anywhen. Is this a 'spiritual sequel', making a trilogy of thematically related films? Who cares? This is one of the times where story and character just isn't important, as long as the physicality is there.
The more interesting thing here is that the third film has been in production with very little fanfare. If you'll recall, the second was directed by Jaa against the advice of his mentor. Jaa eventually lost it while trying to manage the high-budget film, and fled into the forest, where he remained for sometime. Eventually he returned to Bangkok, made a tearful apology on national television and went back to work on the movie, but not before claiming that he was the target of a kidnapping conspiracy. In other words, production on the second film was NUTS, so no surprise that this one has been a much quieter production.
Twitch reports that production on this one is almost finished, with a first quarter 2010 release planned in Thailand. At one point there was a plan to shoot this movie on some of the rather expensive sets built for the second film, but we're not sure if that has happened. Twitch is also unsure if Jaa or his mentor, Panna Rittikrai, is directing. Rittikrai took over Ong Bak 2 when Jaa lost it, and had reportedly planned to keep some of that footage for use in the third film, but we don't know if that plan has been enacted, either.
What we do know: Tony Jaa will beat people up with his elbows a third time. Good enough.