Bunny And The Bull Video Clip (New Film From The Mighty Boosh Team)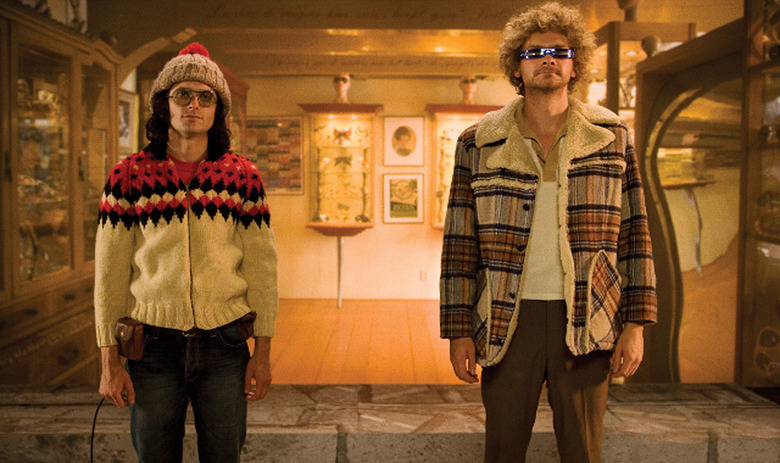 Drawing early comparisons to the films of Michel Gondry is Bunny and The Bull, the debut feature from writer/director Paul King, best known for his work on the BBC's wonderfully disoriented comedy series The Mighty Boosh. The movie co-stars the Boosh's Noel Felding and Julian Barratt, the latter of which can be seen in the below clip...as a bum who savors a creature's teat. Peta is likely nonplussed, but it's pretty funny, to Tom Green included.
Scene reminds me of a less disgusting Kingpin. Bunny and the Bull is said to be not as comedy-centric as the Boosh, and a shade or three darker. The main character is Stephen (Brit actor Edward Hogg), a young adult who remains cooped up in his pad for many month due to agoraphobia and general mental illness. But then a rodent infestation completely shatters his comfortable, reclusive day-to-day. Having just dealt with a bat who inexplicably lived with two others inside a vent above my toilet, I can relate. System shocked, Stephen's mind causes him to relive a previous, wide-reaching Euro road trip, the one that lead him to crazytown.
Stephen's road trip buddy, Bunny (Simon Farnaby), once again joins him; the Gondryesque twist being that Stephen's memories and hallucinations utilize common household items and arts-and-crafts from inside his pad (ex. cardboard boxes, clay). Finally (!) audiences can enjoy something akin to the later years of a Syd Barrett's life shot through the humorous shenanigan prism of Withnail & I.
Tonally it may be more serious than the Boosh, but Bunny's dips into altered states, paranoia, debauchery, unpredictable effects, and "psychedelic wastelands" will sound familiar enough to fans. Fielding plays a shitfaced ex-matador for good measure, pictured below. Interestingly, the film was produced by Warp Films, a subsidiary of the reputable UK electro music label, whose credits include This is England and Chris Cunningham's completely normal Rubber Johnny. Bunny is set for release in the UK this November, and showed recently at the Toronto International Film Festival. With many Americans discovering the Boosh on [adult swim], I do hope the flicks gets a push stateside. A date is currently unavailable.
Also worth noting is that Edward Hogg is receiving a few solid notices for his work in the new film, White Lightnin', which Chris posted the banjotastic-redneck trailer for today on /Film.