Let The Right One In Remake Cast Announced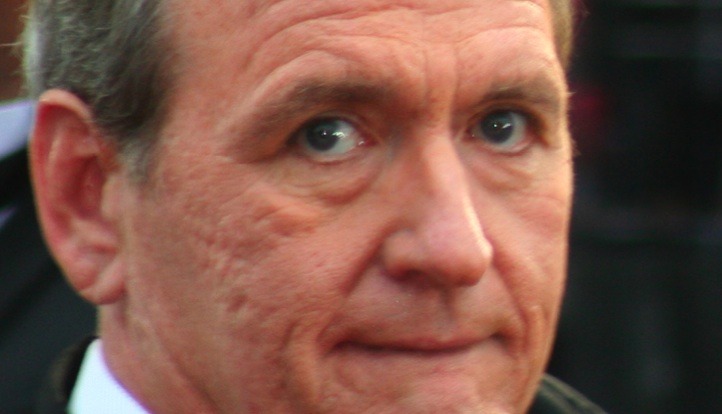 An official press release from Overture Films has named three stars of Matt Reeves' Let Me In, adapted from the novel Let the Right One In. They are Kodi Smitt McPhee, Chloe Moretz and Richard Jenkins. There's lovely for you. Reeves is quouted as saying "Kodi, Chloe, and Richard are my absolute dream cast. I couldn't be more excited to be working with them."
As previously reported, Smit-McPhee will be playing Owen, formerly Oskar, and Moretz will be playing Abby, formerly Eli. Very much not as previously reported, Jenkins will be taking the role originally known as Hakan. The press release avoids giving us this character's new moniker. Why would that be?
This will be the second high-profile horror release for Jenkins next year, after his key role in Drew Goddard's Cabin in the Woods. Good for us – he's great.
There's not much else info in the press release, just that the film has been "fast tracked" to start shooting in November and is one of two films being made in collaboration between Overture and Hammer. It still manages to be over a thousand words long.
The original film was definitely a favourite here at /Film with Peter writing a post headed You Must See This Movie and telling us:
Rarely does a film transcend its genre in the way that Tomas Alfredson's Let The Right One In does. Based on a novel by John Ajvide Lindqvist, this must see Swedish coming of age vampire film is about a twelve year old boy who befriends a girl in the apartment next to him. But little does he know, she's actually a vampire. Don't let that scare you away. The movie is not a traditional horror film, it's a relationship story about an introverted girl who teaches a shy bullied kid how to stand up for himself. It's sweet in every way you wouldn't expect. Beautiful and haunting, Let The Right One In is a film you must see.
I'd have written a post about The Imaginarium of Dr. Parnassus with the same instruction as a headline if I thought I could get away with it.
In all seriousness, Alfredson's film is such a great version of the story it's hard to not approach a remake without a sense of impending doom. Having said that, Reeves seems to have made some pretty smashing choices for the cast. Let's see if he can keep this up all the way through production.
Editor's Note: The official press release follows:
Reeves Casts the "Right Ones"
Hammer and Overture Announce Primary Cast for "Let Me In"
(Beverly Hills, CA) October 1st, 2009 – Kodi Smit-McPhee, Chloe Moretz and Oscar®-nominee Richard Jenkins will headline the cast of Let Me In, Matt Reeves' adaptation of Let the Right One In, when principal photography begins this fall in New Mexico. The announcement was made today by Hammer Films Co-CEO's Simon Oakes and Nigel Sinclair, as well as Overture Films CEO Chris McGurk and COO Danny Rosett.
Director Reeves (Cloverfield) has cast Smit-McPhee (The Road) and Moretz ((500) Days of Summer) in the two lead adolescent roles of Owen and Abby for the eagerly awaited horror feature. Jenkins will play the lead adult character known as Hakan in the original film.
Based on the bestselling Swedish novel, Lat den Ratte Komma In, by Swedish author John Ajvide Lindqvist, Let Me In is a contemporary vampire tale about a young boy who befriends a girl new to his neighborhood. The film is a remake of the highly acclaimed Swedish film, Lat den Ratte Komma In, also known as, Let the Right One In.
Hammer acquired the remake rights to Let the Right One In at the 2008 Tribeca Film Festival where the film took home the Founders Award® for Best Narrative Feature, and has fast-tracked the film for a November 2009 start date. The film is a Hammer Films production with a projected 2010 release in the U.S. by Overture Films. Exclusive Film Distribution is handling worldwide sales and distribution of the film.
Producing the film are Hammer's Simon Oakes, Guy East and Nigel Sinclair and Oscar®-winner Donna Gigliotti. Hammer's Alex Brunner and Tobin Armbrust will executive produce along with John Ptak, Philip Elway and Fredrik Malmberg. Overture's Robert Kessel, EVP Production & Acquisitions, will oversee production for the studio. Swedish producers John Nordling and Carl Molinder, who produced the original film, are also involved as producers on this remake.
The Australian-born Smit-McPhee, 13, stars alongside Viggo Mortensen in The Road, a film festival favorite due out in November. He previously earned the AFI Young Actor's Award® in 2007 for his role in Romulus, My Father.
Moretz, 12, will star in the much –talked-about Kick-Ass next spring and previously appeared in (500) Days of Summer and The Amityville Horror. She has been nominated each of the past three years for a Young Artist Award®.
Jenkins first worked with Overture on The Visitor, for which he earned a Best Actor Oscar® nomination last year. His recent work includes Burn After Reading, Step Brothers and television's "Six Feet Under." He is due to star in several upcoming projects including the much-anticipated The Cabin in the Woods, Dear John and Eat, Pray, Love.
It was announced last year that Reeves will write and direct Let Me In. In addition to the box office hit Cloverfield, Reeves' directing credits include the comedy The Pallbearer, starring David Schwimmer and Gwyneth Paltrow, and the hit television show "Felicity," starring Keri Russell, which he co-created and executive produced along with partner J.J. Abrams.
"Kodi, Chloe, and Richard are my absolute dream cast," says Reeves. "I couldn't be more excited to be working with them."
Let Me In is the first film in a two-picture co-production, financing and distribution agreement between Overture Films and Exclusive Media Group, the parent company of Hammer Films and Spitfire Pictures.