Photo Roundup: New Looks At The A-Team, Green Hornet, Clash Of The Titans, Red Dawn And Date Night
[No photo]
We've got a batch of new photos, mostly snapped surreptitiously from set. First up is the debut look at the new cast of The A-Team as they shoot in Vancouver. And after the break, you can get a look at better shots of The Green Hornet, a new magazine cover for Sam Worthington in Clash of the Titans, a bunch of Red Dawn's propaganda posters and the shot of Steve Carell and Tina Fey in Date Night I know you've all been waiting for.
ComingSoon has the A-Team shot, which shows the core team in, if not action, at least costume. From left to right, we've got Quinton "Rampage" Jackson as Sgt. 'B.A.' Baracus, Liam Neeson as John 'Hannibal' Smith, Sharlto Copley as Capt. 'Howling Mad' Murdock and Bradley Cooper as Lt. Templeton 'Faceman' Peck. Looks like B.A.'s been shot, with that ice pack or bulky bandage strapped to his right arm. Note the lack of ostentatious gold jewelry. Cries of 'sacrilege!' in 3...2...oh, wait. This is just the A-Team. It's not sacred! Head to Coming Soon to see the photo in full resolution, where you can just about make out that, yeah, that actually is Liam Neeson...I think.
Splash News had blurry shots of the Green Hornet costume yesterday, and now they've got much better images of Seth Rogen and Jay Chou in costume as the Hornet and Kato. You can also see Rogen's stunt double in action. Two shots are below; head to Splash News for more.
[No photo]
[No photo]
Empire's new cover features Sam Worthington in costume as Perseus in the new Clash of the Titans. We've already shown off a couple similar shots, so if you saw those this one doesn't show anything new. Much more impressive is the MondoTees poster for the original film, which went on sale during Fantastic Fest. Show me the movie's new Medusa  and/or Bubo and definitely the Kraken (or what passes for it) and I'll get excited. Also excting: that 30 Years of Alien feature promised in Empire.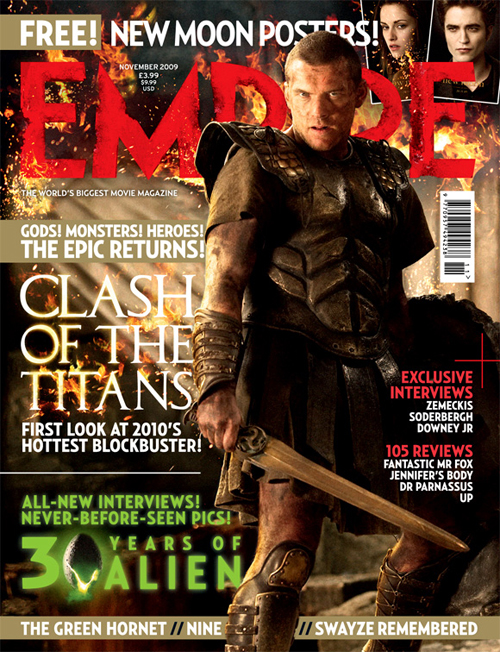 If you're looking for spy images from the Red Dawn remake, the place to go is RedDawn2010, which has a lot of material assembled. Check out the Chinese propaganda posters seen below, and the wall of 'dangerous citizens'. Ooh, this one is going to be so political! (I hope not. Let's just shout 'Wolverines!', kill some invaders and keep the homeland...er, heartland...safe. Why complicate things?)
[No photo]
[No photo]
Finally, from USA Today (see the full image there) here's the first look at Steve Carell and Tina Fey in Date Night. In Shawn Levy's comedy, which opens in April 2010, the pair are "a bored married couple whose efforts to be people they're not — for at least one glamorous night — lead to a real case of mistaken identity, a Mob effort to kill them and an Odyssean getaway through New York City's nightscape."