/Filmcast Ep. 69 - Surrogates (GUEST: Eric D. Snider From Film.com And Cinematical)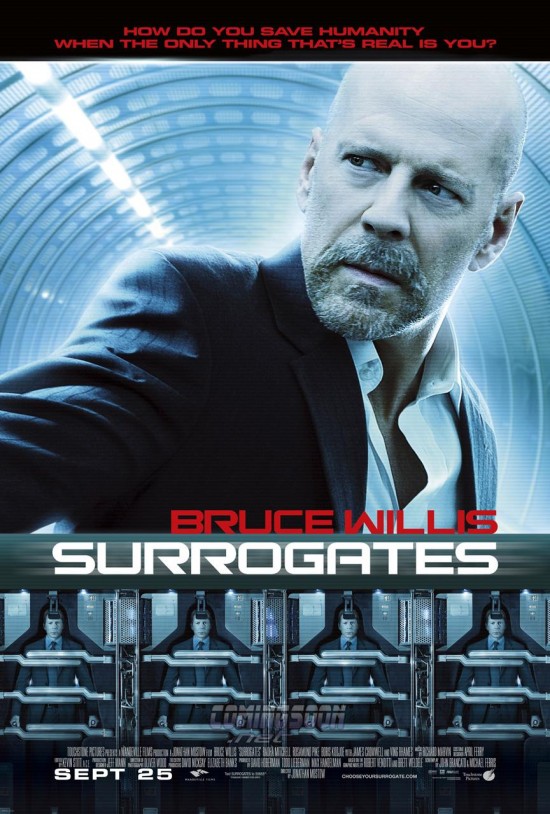 In this week's /Filmcast, Dave Chen, Devindra Hardawar and Adam Quigley discuss the ongoing Roman Polanski saga, praise Community and Cougar Town, reflect on the similarities between Lost and FlashForward, remind you of the greatness of LA Confidential, get freaked out by Paranormal Activity, and continue to chronicle Hollywood's downfall through the proliferation of remakes and film adaptations based on popular brands. Special guest Eric D. Snider joins us this evening.
You can always e-mail us at slashfilmcast(AT)gmail(DOT)com, or call and leave a voicemail at 781-583-1993. Join us next Monday at 9 PM EST / 6 PM PST at Slashfilm's live page as we do a double review of The Invention of Lying and Zombieland.
Download or Play Now in your Browser:
Shownotes
Introduction
(01:15) Contest! Win Kevin Smith's "My Boring Ass Life" and "Shooting the Sh*t" by e-mailing slashfilmcast(AT)gmail(DOT)com with your favorite movie story that involves one of your friends. Be sure to include your mailing address and put "Kevin Smith Contest" in the subject line.
What We've Been Watching
David Chen (02:43): Paranormal Activity, LA Confidential, Ong-Bak 2
Devindra (20:32): Dexter, Dollhouse, Modern Family, Cougar Town
Adam (27:40): Modern Family, Community, Flashforward
News Discussion
(47:14) Nightmare on Elm Street Trailer
(51:31) Cronenberg to Remake The Fly
(55:12) Universal Plans a Barbie Movie
Featured Review
(1:02:24) Surrogates
Credits
The Scene Unseen Podcast is great! Check out their website and listen in!
A big thanks to our sponsor, Bonaroo.co.uk (use the code "filmcast" for free shipping to the U.S.!)
Our music comes from Point 22 courtesy of the Podsafe Network, and Brad Sucks
If you'd like advertise with us or sponsor us, please e-mail slashfilmcast@gmail.com.
Contact us at our new voicemail number: 781-583-1993
You can donate and support the /Filmcast by going to www.slashfilmcast.com and clicking on the left-hand side "Donate" links! Thanks to all our donors this week!
Oh yeah, and here's James Ellroy introducing LA Confidential at the Brattle Theatre: