Stephen King Novella The Colorado Kid To Become TV Series Called Haven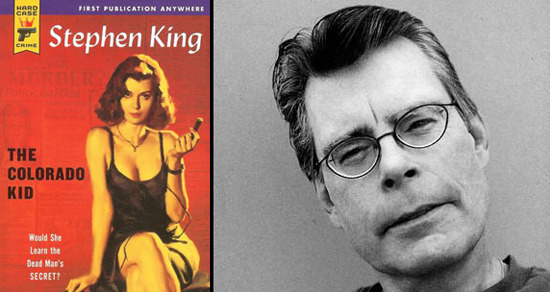 The same production team that brought The Dead Zone to television screens is teaming up with Stephen King once more. This time, showrunner Scott Shepherd and executive producers Lloyd Segan and Shawn Piller will adapt King's novella The Colorado Kid for E1 Entertainment, the studio behind Hung. The product will be Haven, an hour-long episodic series taking place in "a spooky town in Maine where cursed folk live normal lives in exile."
The Colorado Kid is notable in King's recent catalog. (Notable to some as being bad, it must be said.) It was published by Hard Case Crime in 2005. The label publishes old, out of print novels by known hard-boiled crime authors, and new work by the same writers and other notable names. King's novella gave the imprint a boost, and was also something different for him. The book is essentially a long non-mystery told by two old newspapermen to a new intern. It is digressive, slow, and generally without resolution.
As such, it's not the worst setup for a TV series, but the description provided by Variety suggests the show will differ significantly from the novella. In fact, the plot sounds nothing like that of the original book. You've got the spooky Maine town, Haven, and cursed folk living in exile. Then, "when those curses start returning, FBI agent Audrey Parker is brought in to keep those supernatural forces at bay — while trying to unravel the mysteries of Haven." Good choice on the title change, then, but really, all this seems to have in common with the book is an air of mystery, and the notion of unsolved cases.  That's fine, but all things being considered, it sounds like the 'adapted from a Stephen King' novel is just a marketing hook.
Thirteen episodes have been ordered, and we don't yet know any details about casting. ABC had once been part of the development cycle for the show (tentatively planned for the '08/'09 season) but that quite evidently didn't work out.