Studio Ghibli Announce Next Film, Plus Two More In The Works From Hayao Miyazaki Himself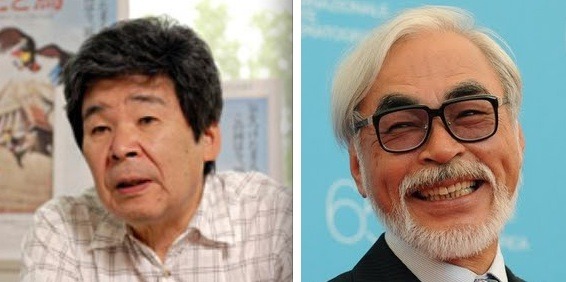 After a nice ten year hiatus since he completed My Neigbours The Yamadas, Isao Takahata is back at work directing the next feature film from Studio Ghibli. Taketori Monogatari, which translates as The Tale of the Bamboo Cutter, will be an adaptation of the story considered to be the oldest surviving Japanese folktale. It is an incredibly well known story, at home, much as Grimm's Fairy Tales are in the West.
I recall that Kon Ichikawa made a live action version of the tale with Toshiro Mifune and, according to my Google Research, Big Bird witnesses a telling of the story by schoolchildren in the TV movie Big Bird in Japan but I dare say most renditions will become ancillary to the Ghibli version, if not outright forgotten in its shadow. I suspect this toon is likely to become a definitive version in Japan much in the way Disney have laid claim to Snow White or Pinocchio for Western audiences. You only have to imagine how deeply entrenched a Pixar version of
I find the Tale of the Bamboo Cutter to be quite a bitty and episodic story. I'll rattle it off in synopsis, but – obivously – you might want to be aware of spoilers:
A baby girl from the moon is found in a stalk of bamboo and adopted by a bamboo cutter and his wife. The girl grows up and sets challenges for the many princes who come seeking her hand in marriage, a series of tasks which they find impossible. She then meets the Emperor but rebuffs his amorous advances without even bothering to test him. This is not enough to discourage him, however, and he keeps trying to woo her until she is visted by other moon beings who want to take her home. She can't resist her fellow moon folk, and is taken away from her parents and her royal suitor. She leaves the Emperor an elixir of eternal life, though he refuses to drink it as he'd rather die than live without her.
Well, that's what I've been able to put together from around and about the web and that Ichikawa film, anyway. He had a UFO turn up at the end, though I'm sure the original version of events invoked more angelically celestial imagery to its 10th century audiences.
The film is reported to be set for release next year.
Also reported in the same post at Asian Movie Pulse is that Hayao Miyazaki, Takahata's Studio Ghibli co-founder and probably the most cherished animator in the world, is "in discussions with studio staff to make two more feature-length films in the next 3 years". I'm assuming that means he's negotiating to direct two pictures, not to find directors for them, but I don't think we can be entirely sure. He has (once again) been threatening to retire, after all.