First Look: Simon Pegg And Nick Frost In Greg Mottola's Film Paul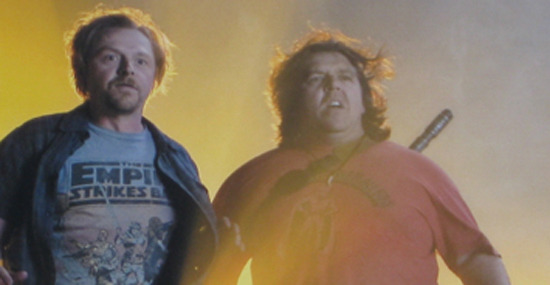 We've seen a few video blogs from the set of Paul (like this and this), the geek road trip movie written by Nick Frost and Simon Pegg and directed by Greg Mottola. But we haven't seen any stills showing the cast really in character, until now.
Collider was sent a nice image that is plastered up somewhere in Universal Studios, showing Frost, Pegg, and what appears to be Kristen Wiig and Jane Lynch. This is probably just a promo shot, but it gets the idea across: geek guys, alien encounter, weird shit. Couple that with a Pegg/Frost script and Mottola's direction (who has been said to be doing his best early Spielberg) and I am so down. There's a lot of the cast yet to be seen: Sigourney Weaver and Blythe Danner, Jason Bateman, Jo Lo Truglio and Bill Hader in their government suits, Dave Koechner and John Caroll Lynch. Finally, there's the alien, Paul, mocapped by Seth Rogen.
The official synopsis goes like this:
PAUL is a comedy about two sci-fi geeks who embark upon a pilgrimage in a RV to the center of America's UFO heartland: Nevada's infamous Area 51. While in the middle of that desert, the two friends encounter a fugitive alien by the name of Paul. Somewhat reluctantly, they embark upon an adventure that will change not just their lives forever, but also the lives of the friends and enemies they encounter along the way.
Paul finished shooting recently, so hopefully we'll see some sort of teaser footage before the end of the year. (Attached to The Fourth Kind, maybe? Probably not...) Maybe Simon Pegg, Nick Frost or Greg Mottola will be kind enough to hook us up with a warning on Twitter. The film releases on August 16, 2010.