Mickey Rourke To Play True Life Mafia Assassin In The Ice Man. What's The Precedent For This Film?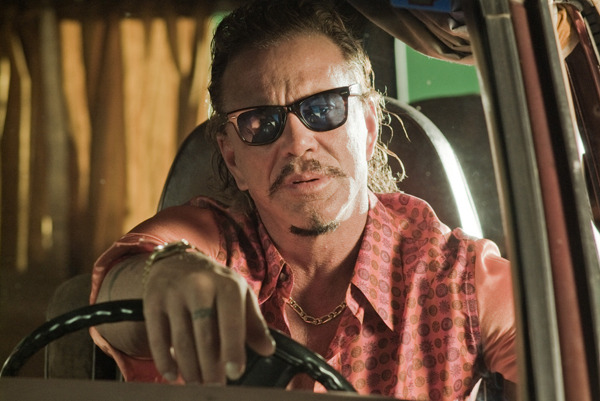 Hey kids, maybe if you murder a couple hundred people for the mob, Mickey Rourke will star in your life story, too. Stay in school. Last month, we wrote about the beef had by true crime writer and biographer, Philip Carlo, with actor/model Channing Tatum portraying Richard "The Ice Man" Kuklinksi in a feature film based on his book The Ice Man. Carlo deemed Tatum unworthy to play the infamous goon, who died in prison in 2006. Rubbing in his dislike for the young actor, Carlo put in a commendable word for the veteran Rourke. Well, the disagreement between Carlo and mega-producer Lorenzo di Bonaventura led to the latter's rights expiring on the project last month; in the meantime, Rourke got in touch with Carlo and now he's apparently set to star. Carlo says via the NY Post that Rourke thinks the movie could "be his Raging Bull." Not the smoothest comparison in my opinion...
The trend arguably reached its zenith, if not intentionally so, with the following that has circled around Brian De Palma's Scarface long after its release in 1983. As if by reaction, The Sopranos avoided having its legacy pillaged by thug-wannabes—and reaped the benefits—by contributing the most thorough, engrossing, fictional character study of a mobster and the coinciding criminal mentality in TV/movie history. Even without a fatalistic ending—okay, arguably so—the payoff and lifestyle weren't romanticized enough, the dialogue too high brow, for the strip-mall-gangsta altar.
If Rourke did indeed imply that portraying this mass-murderer equals Oscar bait—no director has been officially announced—it's not without precedent. Charlize Theron won Best Actress at the 2004 Academy Awards for portraying serial killer Aileen Wuornos in Monster. And like in Monster, I'd expect The Ice Man to delve into the psychology and formative background of Kuklinksi, so as to pass the guy off to audiences as human-enough and not evil incarnate, if the filmmakers hope to click with critics. But based on Kuklinski's unapologetic demeanor, earning a drop of sympathy would seem an impossible task. And when Carlo offer boastish statements a la the following to the press when discussing Rourke's involvement, I'm not sure that's the goal...
He used to use cobblestones, but he was getting gray matter on his clothes, so he stopped," Carlo said. Kuklinski was arrested in 1986 and died in jail 20 years later, supposedly of natural causes. Carlo says he was murdered by Sammy "the Bull" Gravano.
So, what is the goal? As entertaining exploitation, graphic films about fictional killers like American Psycho and the cult-classic Maniac have plenty of fans partially due to a separation from real events. If Rourke and Carlo are to make references here to classic De Niro roles, Martin Scorsese's harrowing remake of Cape Fear spliced with the true-life mob world of Casino and Goodfellas is a much safer bet (and more ethical, even). If you have a better precedent for a high profile film based on the life and crimes of a true life killer, let us know in the comments.
If you're not familiar with The Ice Man's murders and claims, click here.
Discuss: What's the cultural value in making this film? If you've read Carlo's book, input is appreciated.