WTF: Lost Boys 3: The Thirst Contains A Nod To Twilight, Starts Filming This Fall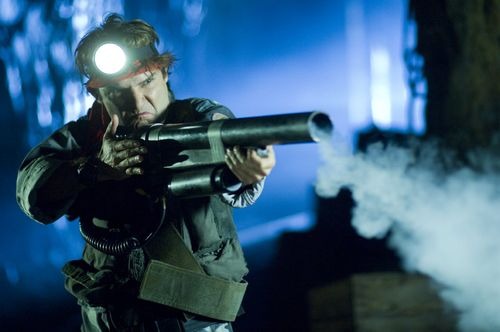 Let's throw a wrench into this Lost Boys assembly line, shall we? Filming on the second sequel, Lost Boys: The Thirst, is set to begin in early November (in Capetown, South Africa, no less) with Corey Feldman reprising his role as the moody vampire slayer, Edgar Frog. If you managed to fall into a sewer over the last year, the Crack Fox no doubt introduced you to Lost Boys: The Tribe, the worst vampire film to feature "extreme" skateboard stunts and tribal tatts in history. Death by direct-to-DVD. But wait! Based on the plot of Lost Boys 3, which contains a sparkly nod to Twilight, the next installment sounds even worse...
When veteran vampire hunter Edgar Frog finds himself destitute and almost friendless, when [sic] a wealthy vampire-romance novelist offers him a small fortune to go on the vampire hunt of a lifetime and rescue her son.
Apparently Jamison Newlander, who played Edgar's grunting bruddah, Alan Frog, in 1987's The Lost Boys, will be back in the role for Thirst. He actually filmed a cameo as Alan for The Tribe—updated as a hot rod-driving p.i.m.p. bloodsucker—but the scenes were scrapped and placed on the special features. It sounds as if that twist is being thrown out for Thirst, no doubt in a bid to continue the Frog Brothers' adventures for more films. If Tribe has a highlight, it was the end cameo by Corey Haim, who returned as an also-bitten Sam, to kick one-liners and face off with Feldman. Watch it here. The Coreys have since had another falling out, and in my interview with Haim last spring about LB3 he said..
So, now there's talk about Lost Boys 3. It seems to be happening.
Corey Haim: There's always ideas being kicked around. There's talk about number four and number five. The Lost Girls. Just different people at the office. But it's too late. They should have done it years ago, or just done it properly. It's way too late. That's just my opinion.
The script for LB3 is by Evan Charnov, whose sole credit is a writing gig on the long-cancelled "FBI agent without a fear gene," TV show Fearless. The first sequel was written by Hans Rodionoff, who actually had some cool ideas that were scrapped by the production and went on to do the far better comic book mini-series, Lost Boys: Reign of Frogs. Reviewed here. LB3 will be directed by Dario Piana, who is credited with several Italian horror productions on IMDB and helmed The Death of Ian Stone in 2007.
This sucks. There are plenty of young, hungry directors out there who could make a faithful, fun, and atmospheric Frog Brothers movie with $4 million and the backing of the home entertainment division at Warner Bros. Instead, WB chooses to infuriate fans—the original raked in a ton of money on DVD—by making a sequel that seems logistically harder to pull off, complete with a premise that is the polar opposite of why people dig the movie, one of the best horror-dramedies ever made. By cashing in on Twilight—sarcastically or not—it's nothing less than a categorical and inexcusable fuck you to the fanbase. At least Haim understands this. Christ.