Kurtzman And Orci Negotiating Xombie For Dreamworks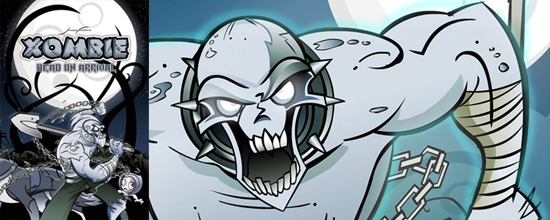 We've seen a feature where zombies are pets, and one where they're used as cheap labor. Now Alex Kurtzman and Roberto Orci may be casting one of the undead as a cop, as they're negotiating a buy of the comic book / animated web series Xombie for Dreamworks.
THR reports the deal, which came about through a pitch by cop turned writer Will Beall. The writer already has a deal to adapt his own novel L.A. Rex, about a human cop, for Scott Rudin. But he'd like to adapt James Farr's Xombie story, which is about "a zombie cop named Dirge who attempts to saves humanity's remnants, particularly a young girl named Zoe, from evil zombies." The story was born as a flash series, but has since become a graphic novel, Dead on Arrival, which recounts the same story as the web series, and a comic series called Reanimated.
Here's one more detailed synopsis:
Xombie tells the story of a little girl named Zoe, who washes ashore several decades after a zombie plague has wiped out most life on Earth and replaced it with bloodthirsty reanimated versions of the planet's previous inhabitants. She is saved from a swarm of zombies by Dirge, a "variant", a zombie who has retained their conscious mind and the ability to think like a human. (According to the official website, the variants are called "xombies", but the term has yet to be used in the series itself, likely because it is pronounced the same way as "zombie".) Dirge takes it upon himself to perform one last good deed before his zombie body withers away and begins a journey to reunite Zoe with the few remaining live humans and save her from a gruesome death at the hands of the undead.
Here's the trailer for the DVD release of Farr's flash-animated web series. Too bad it doesn't really give any idea about character or story: