Bryan Singer Tackles Jack The Giant Killer For New Line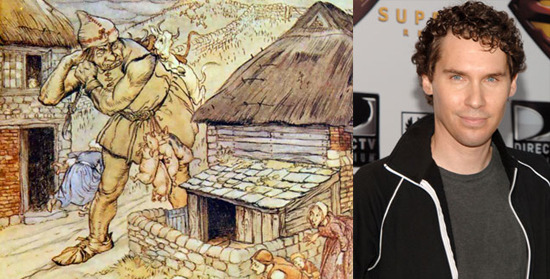 Among Bryan Singer's potential next projects, the most odd-seeming was Jack the Giant-Killer. (Which has been mistaken at certain points for Jack and the Beanstalk; they're different but similar stories.) Now, Singer looks to be making Jack his next film, and the movie is being fast-tracked. Hey, it's better than another Battlestar Galactica reboot, right?
THR calls the film a 'fantasy adventure' that Singer will make for New Line. Mark Bomback rewrote Darren Lemke's script with a story that is "set in motion when a princess is kidnapped, threatening a long-standing peace between men and giants. A young farmer is given an opportunity to lead a dangerous expedition to the giants' kingdom in hopes of rescuing her." The basic original version of the story is that Jack is a young man from Cornwall who kills a series of giants, sometimes with the aid of magical accessories, and achieves fame and fortune for his deeds.
Why is Singer so interested in this story? It might have to do with being of an age where he could have grown up watching stop-motion enhanced adventure movies like The 7th Voyage of Sinbad. Many of that film's principals were reunited into a generally lousy 1962 film called Jack the Giant Killer. But the movie had some fun stop-motion effects and ended up being a staple of the '70s/'80s TV rerun circuit.
The interesting thing here is that tellings of Jack the Giant Killer often have Arthurian attachments. Singer was most recently said to be developing a remake of Excalibur, the story of Arthur's rise and fall. In many versions of Jack's story, he lives during Arthur's reign, and wins the chance to marry Arthur's daughter after killing one giant. In the '62 movie version, the nemesis wizard is called Pendragon, but that may just be a grab at a name that would have been familiar to audiences. And while it's unlikely that any of Singer's Excalibur ideas will end up in Jack, the link is intriguing.