/Filmcast Ep. 68 - Jennifer's Body (GUEST: Adam Kempenaar From Filmspotting)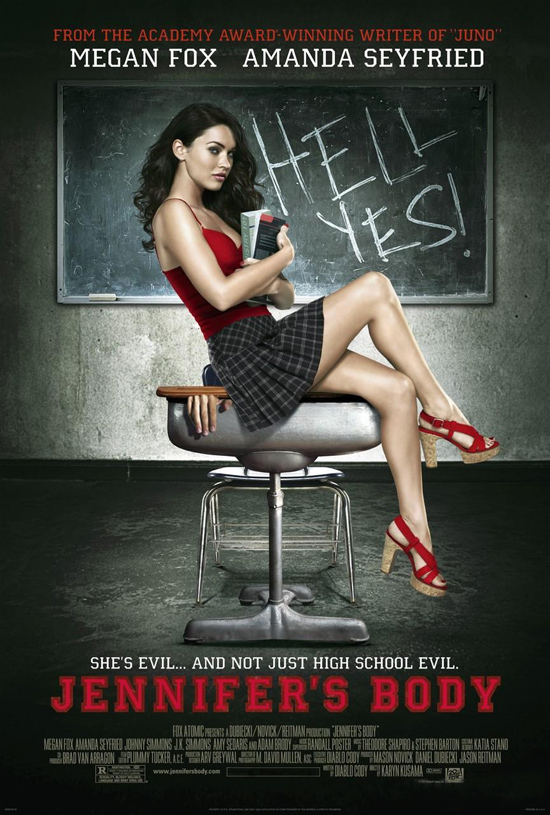 In this week's /Filmcast, Dave Chen, Devindra Hardawar and Adam Quigley discuss the sad state of Disney's live action brand, assess Tomas Alfredson's proclivities for gender-bending storylines, offer up some unabashed praise for Cloudy with a Chance of Meatballs, and report back on the first week of the fall TV season. Special guest Adam Kempenaar joins us from the Filmspotting podcast.
You can always e-mail us at slashfilmcast(AT)gmail(DOT)com, or call and leave a voicemail at 781-583-1993. Join us next Monday at 9 PM EST / 6 PM PST at Slashfilm's live page as we review Surrogates.
Download or Play Now in your Browser:
Shownotes
Introduction
(01:50) Contest! Win Kevin Smith's "My Boring Ass Life" and "Shooting the Sh*t" by e-mailing slashfilmcast(AT)gmail(DOT)com with your favorite movie story that involves one of your friends. Be sure to include your mailing address and put "Kevin Smith Contest" in the subject line.
(07:27) Adam Kempanaar from Filmspotting
What We've Been Watching
David Chen (08:20): Jurassic Park (Again), The Shield Season 7
Devindra (13:00):  Cloudy with a Chance of Meatballs, Fringe, The Office, Community
Adam (20:16): The Informant!, Parks and Recreation, Curb Your Enthusiasm, It's Always Sunny in Philadelphia, Archer
Adam Kempanaar (33:56): For the Love of Movies, Wait Until Dark
News Discussion
(1:02:39) Nicole Kidman to Star in Tomas Alfredson's The Danish Girl, His Follow-Up To Let the Right One In
Featured Review
(1:10:50) Jennifer's Body
Credits
The Scene Unseen Podcast is great! Check out their website and listen in!
A big thanks to our sponsor, Bonaroo.co.uk (use the code "filmcast" for free shipping to the U.S.!)
Our music comes from Point 22 courtesy of the Podsafe Network, and Brad Sucks
If you'd like advertise with us or sponsor us, please e-mail slashfilmcast@gmail.com.
Contact us at our new voicemail number: 781-583-1993
You can donate and support the /Filmcast by going to www.slashfilmcast.com and clicking on the left-hand side "Donate" links! Thanks to all our donors this week!