Nicolas Winding Refn Talks Valhalla Rising And Jekyll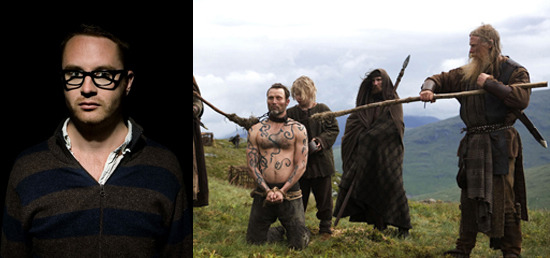 I've been saying this for years, and it is now quickly coming true. Thanks in part to his one-two punch in 2009 (Bronson and Valhalla Rising) Nicolas Winding Refn is becoming a recognizable name. Bronson is finally about to open in the US, and between that event and the Toronto premiere of Valhalla Rising, which was purchased by IFC, Refn is talking to the press about a few projects.
I've read some mixed reviews of Valhalla Rising, but hearing Refn describe it as "a mental science fiction movie" has me more ready to see it than ever. Talking to SciFi Wire, he says:
I always wanted to make a science fiction movie, but I had no interest in [the] technology of science fiction. I wanted to do a mental science fiction movie. I find it difficult to make one in the future now, because technology always kind of goes against mythology and the concept of science fiction. So I decided to do the 1100s instead.
Refn has also been talking about Jekyll, his potential retelling of the Jekyll/Hyde story, with Keanu Reeves starring as Jekyll. It's not his next film (that will be the Bangkok western Only God Forgives) and he isn't writing the script himself, which is a first in his career. Justin Haythe, the Revolutionary Road screenwriter, is tackling the script. About Reeves and Jekyll, Refn tells Cinematical:
I think Keanu is a very interesting personality. I do think that there's a great movie within him. I think his visual look is very interesting. So I think that what makes it exciting is that he's a non-obvious choice, but he actually adds a great sense of curiosity to the film...I do think that doing it would bring great satisfaction to him, to really pull it off. It's probably the most difficult role any man could play.
The director also talked to SciFi Wire about his approach to Jekyll, and how to make the film work on its own terms. He wants to set the film in modern America and use as much credible science as possible, the latter being an interesting tactic. Because what credible science is there upon which to base the tale?
And what about Only God Forgives, anyway? We've run that it is about "a Thai police lieutenant and a gangster settling their differences in a Thai boxing match." Refn tells Cinematical a bit more:
[It uses] the mythology of Westerns, but set in an urban environment in Bangkok nowadays. It also combines my own love of Thai food, and I collect toys, because I wanted to be a toy collector when I was younger, and Thailand and Bangkok have great toy stores. So this is three stones in one knock.