Will We Soon See A Glut Of Archie Comics Movies?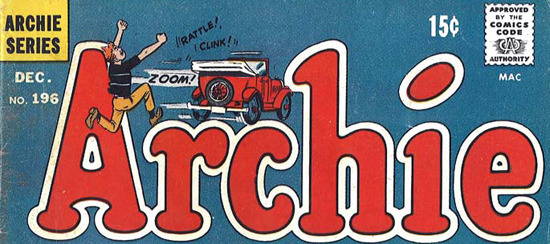 The news this week isn't just slow; it is turning towards being completely irrelevant. First, there's major casting news on the Secretariat movie, a film that screams 'limited audience appeal'. Now there's word that Archie Comics is now repped by CAA, which suggests that we could eventually see a bunch of film and television properties spun off from the long-running stories of Archie, Betty, Veronica and Jughead. Would any of you actually care about these theoretical films and shows?
Variety reports the signing, saying that CAA "will seek to create branded entertainment opportunities in film and TV in much the way that it has for toymaker Mattel." Ironically, when Archie began to appear in comics in 1941, he was intended to appeal to movie fans. Specifically, publisher John Goldwater wanted to lure the kids who were lapping up Mickey Rooney's Andy Hardy films. Since then Archie has been a static caricature. He drives a junky/cool car, hangs out with his friends and plays in a band. He's caught between the girl next door (Betty) and her rich, gorgeous opposite (Veronica). The early Veronica stories had her moving to Archie's home town of Riverdale and stealing the kid's affections, causing Betty to fight for his attention. That would likely be the big part of any movie plot that was to develop out of this deal. Yawn.
Becase Archie has barely changed in 60 years of existence, some would call him a classic portrait of the American teenager. But even when I was a kid and beginning to read comics I never paid any attention to Archie; he already seemed laughably out of date. Now, many years after that, it seems like inertia must be the only thing that keeps the character in existence. The books are still published, so somone must read them, but I've always assumed the titles were kept aloat by subscriptions bought by hospitals and daycare centers.