Jack Kirby's Estate Sues To Regain Copyright Control Of Characters Like Iron Man, Thor And The X-Men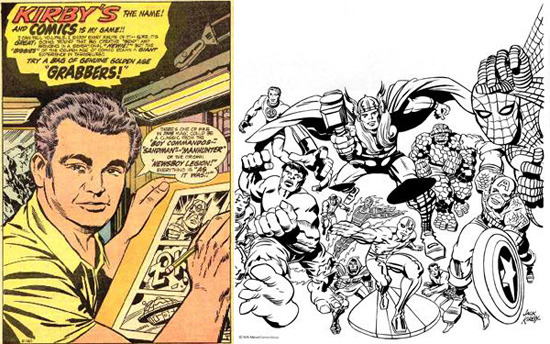 Hot on the heels of the lawsuit filed by Jerry Seigel's estate to reclaim ownership of Superman, the Jack Kirby estate is suing many companies — Marvel, Disney, Sony, Universal, 20th Century Fox, Paramount and others — to reclaim copyright ownership of characters created and co-created by Kirby. That's a big roster: the Fantastic Four, Captain America, the X-Men, Iron Man, Thor and many others. Lawsuits like these aren't uncommon, but there's one ingredient that could make this one more likely to have long-term effects: it is being litigated by the lawyer who successfully won some Superman rights for the Seigel estate.
BleedingCool (via Nikki Finke) is reporting the news. The report says that:
[The Kirby Estate] has sent notices terminating copyright to publishers Marvel and Disney, as well as film studios that have made movies and TV shows based on characters he created or co-created, including Sony, Universal, 20th Century Fox and Paramount Pictures. Just as the Jerry Siegel estate has done so with rights to Superman, so Kirby's estate is looking to regain his share of copyright in the characters and their use in comics and other media.
Marc Toberoff, described by Finke as the "bane of big media," is the lawyer arguing for Kirby's estate. The payoff here, if the argument is found to have merit, would be that Marvel/Disney would retain the character trademarks, but Kirby's family would negotiate new financial terms for the exploitation of his characters.
Kirby's work has been a source of contention for years. His classic stories and characters were largely all created under implied work-for-hire arrangements. That is, he owned no rights to his creations. In 1978, copyright laws changed, and required all work-for-hire arrangements to be specifically controlled by contract. Kirby refused to sign Marvel's, and left the company.
In the mid-'80s, Marvel was under pressure to return original artwork from the '60s and '70s to the artists, and Kirby's art became a particular sticking point. (Artists could sell their original pages, generating significant extra income.) He refused to sign the contracts offered by Marvel, and the battle over his art became the greatest public spectacle in the comics world at the time. In 1987 Marvel returned around 1,900 pages of art to Kirby, less than a quarter of his output. (The Comics Journal has a much more in-depth report of this situation.)
Even at that point Kirby was arguing for creator-owned rights within the comics industry, and that argument had long repercussions. The formation of Image Comics, for example, was directly influenced by Kirby's battle with Marvel. Kirby's fight for copyright ownership began during this period as well, but as comic writer and Kirby friend Mark Evanier said (quoted in that Comics Journal piece), Kirby "had decided in the early 1970s that, financially and emotionally, the copyright issue was not a fight he was prepared to fight."