The Karate Kid Remake Art And Title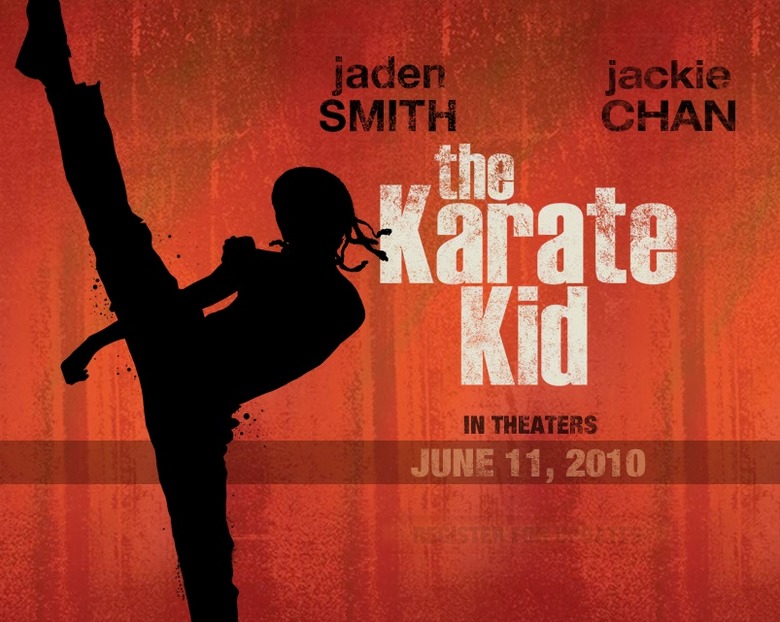 The saga of the ever-changing Karate Kid remake title continues. You might remember when we posted a couple set photos earlier in the week, we mentioned that the Will Smith-produced remake/re-imagining of The Karate Kid had been officially retitled The Kung-Fu Kid. A /Film commenter named videophonic forwarded us to some official art on Sony's website which still features the old title. I don't believe I've seen this art anywhere else online, so I thought I'd pass it along.
As you probably know by now, Jaden Smith plays Dre, a skateboarding video game buff who is forced to move to China after his single mother (Taraji P. Henson) is forced to transfer to the China for work. Of course, unable to speak Chinese, Dre finds it hard to settle in, and gets beat up by the local bully. Jackie Chan plays Mr. Han (the Mr. Miyagi character), a maintenance man who spots Dre's black-eye and offers to teach him both martial arts and Chinese, so he can defend against the students of Li Quan Ha's Fighting dragon school of Kung-Fu.
Directed by Harald Zwart (The Pink Panther 2) and written by Chris Murphy and Steven Conrad (The Pursuit of Happyness). Filming on the remake has begun in Beijing, and is expected to last until mid-October.