Penn & Teller Get Killed And Become Detectives - New DVD, New TV Series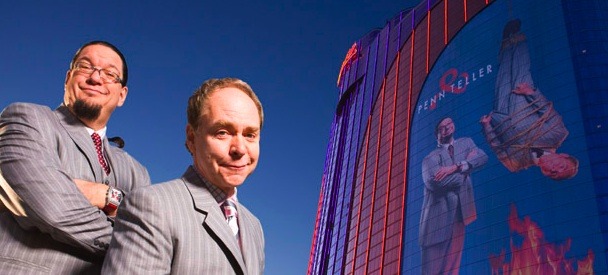 Seven seasons into their bunkum-busting Showtime series Bullshit, and on top of their decades of stage magic mastery, Penn & Teller are about to take their double act onto primetime TV in a most intriguing way. They'll be starring in a new hourlong mystery series as themselves, give or take: Las Vegas performers who sideline as reluctant detectives. The detective bit is obviously where the give and take comes in.
Similarly brilliant is the news, perfectly timed to coincide with this TV show's announcement, that the duo's mini-classic movie Penn & Teller Get Killed is now finally available for order on DVD.
I'm a real lover of stage magic and illusions and also love to see that kind of misdirection and trickery at work in cinema, whether it's in something like The Illusionist or Magicians, a 'trick thriller' like The Sixth Sense or The Usual Suspects, or simply in a clever bit of 'things are not what they seem' filmmaking. Often, in films or TV specifically set in the world of conjuring there's also a great deal of fun to be had with exposing or subverting the machinery of the magician's craft. Very few magicians do this as part of their act however, at least not overtly, but Penn & Teller have never shied away from ripping back the curtain. Penn & Teller Get Killed took their deconstructive approach from the stage to the silver screen. The very first moment features a trick with a bouncing bagel at first demonstrated, then elegantly explained courtesy of a simple camera move.
The last feature film of Bonnie & Clyde's Arthur Penn, Penn & Teller Get Killed is a bit of a messy film, sometimes bent out of shape to fit in a little swipe at one of the duo's bugbears or left for the odd moment to tread water instead of swing forward, but it is very inventive, smart and occasionally laugh out loud funny. If you've at all enjoyed any of their other work, I'd hope you'll seriously consider a trip to the Warner Bros. vault to place an order.
I'm hoping that Penn & Teller's new TV show delivers more of the same, while hopefully being a touch more developed and polished. Variety tell us that it is being Executive Produced by the duo as well as Leonard Dick, a writer from House, my favourite US TV show of the moment. Dick is also scripting the new show, which Warner Bros. TV are producing for ABC. Best case scenario, it will show the same spirit as Penn's film but a higher degree of structural precision and some riddle-me-this murder mystery fun.
Jonathan Creek was a great BBC mystery series that featured an inventor of illusions solving murders and crimes with his particularly astute, perhaps even cynical skills for scrutiny (note for UK readers: a new 90 minute episode, The Judas Tree, is currently shooting and will air next Easter). Despite a fairly high cheese factor in some episodes, I think that the show's creator-writer, and latterly director, David Renwick succeeded in creating one of the greatest detective series ever on TV. Multiple attempts to remake the show in the US came to nothing, including one that would have replaced original star Alan Davies with Whoopi Goldberg. I'm thinking this new Penn & Teller show might go paddling in similar waters, with magic-themed mysteries. Definitely not a bad thing.