Priest Adds Three: Christopher Plummer, Brad Dourif And Madchen Amick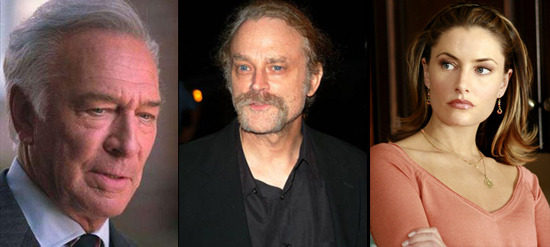 Between the fact that he founded effects house The Orphanage, the work that outfit subsequently produced and what I've seen of his directorial debut Legion, I'm ready to see more work from Scott Stewart. If it is forward-thinking stuff, great. If it's good, solid genre filmmaking, great. We always want every new guy behind the camera to be some sort of genius, but I'm always happy to see someone making genre films that can work as entertainment. That may be Stwewart's role, and if he transcends it, wonderful. If nothing else, he's been roping in some great actors, and his adaptation of the Tokyo Pop graphic novel Priest just got three wonderful new faces.
I'd already seen Variety's report about Madchen Amick joining the cast (which is headed by Legion star Paul Bettany) when Devin at CHUD alerted me to the fact that Stewart is on Twitter, where he was the first to announce that Christopher Plummer and Brad Dourif had also joined the cast.
Despite being a huge Twin Peaks fan (which discovered Madchen Amick) for me the really big name there is Brad Dourif. Those who don't like the Rob Zombie Halloween movies (like, um, me, and Devin) might argue that he'll appear in anything. But he'll be damn good in anything, too. His Halloween scenes are solid. Tell me that Dourif wasn't one of the consistently reliable parts of Deadwood and I'll call you a liar. Watch John Huston's Wise Blood (now finally available on DVD from Criterion and which I had the wonderful fortune to see Salmon Rushdie introduce a few months back) and tell me Dourif doesn't just own it. He's a wonderful actor, and I'll see anything he's in.
A lot of people might say the same thing about Christopher Plummer; the guy adds instant class to any movie. I'm frankly a bit surprised to hear that he's in Priest, which isn't meant to brush off the film. More that I don't yet know his role; sadly, I imagine it will be a brief supporting appearance.
And while I know a lot of Amick's lines from Twin Peaks backwards and forwards (man, I've seen that show so many times) she's the 'X' factor for me, as I haven't seen any of her current stuff. We do know her role, however: she's Shannon, the mother of the kidnapped girl that sets the plot in motion.