Green Lantern Casting Call Reveals Supporting Characters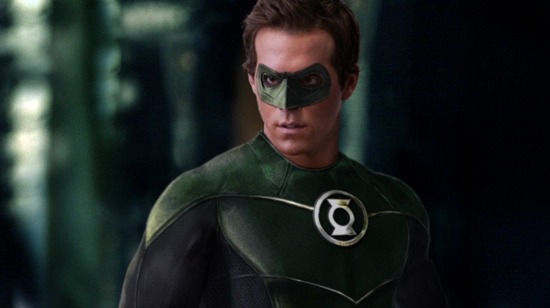 I love a good casting notice, meaning those that give away hitherto secrets of plot or dramatis personae. While we know that a Green Lantern picture is currently in preproduction, with Ryan Reynolds locked in to take the lead role, we didn't know which other characters we could expect. I'll put the info after the break, in case you are particularly sensitive to even the mildest of spoiling, but now we know at least which DC-universe villain – or villains? – it is that he'll be facing off against, and which other key characters from the comics will be showing up.
The idea of including multiple villains in a comic book movie really seems to rankle some folks, so if you're one of those, look away now, move along, find another picture to look forward to. According to the casting requirements uncovered by Spoiler TV, Martin Campbell and colleagues are looking to cast a pair of baddies:
[DR. HECTOR HAMMOND]
27-35, Character actor who is austere and impersonal, he is real "scummy." He is a pathologist and also the son of a Senator.
[SINESTRO]
Mid-30s to Mid-40s, he is smart, tough, intimidating and in great physical shape.
If this is just an origin movie it's possible that Sinestro won't mutate from being our hero Hal Jordan's mentor into the bad sort he quickly became, but I'm prepared to bet that switcheroo is key to the story – see Jeff Bridges' role in Iron Man, I suppose.
Sinestro is one of the many alien characters in the Green Lantern mythos, though despite this he's a dead ringer for David Niven. Another extra terrestrial is on the list too:
[ABIN SUR]
Mid-30s to mid-40s, he is a great warrior.
Acccording to those who know comics better than I, Abin Sur is the character responsible for recruiting Hal Jordan into the Green Lantern Corps. They also tell me that – spoiler alert – he's dying as he hands his ring thing over to Hal Jordan, so it probably isn't a huge part. What isn't mentioned in this casting notice is that he appears to be completely bald.
The last outstanding character mentioned is:
[CAROL FERRIS]
26-32, a smart and attractive woman with an MBA. She started as a pilot and now runs Ferris Aircraft. She is a work-a-holic...FEMALE LEAD
Looking at that it seems her alter-ego Star Sapphire won't be factoring in. Perhaps this lucky actress can expect at least a two-film contract, with the Star Sapphire business set to play out in a second film if the first is enough of a success? That's a common play in recent superhero pictures.
Carol Ferris is a love interest for Ryan Reynolds' Hal, who is a test pilot at Ferris Aircraft as well as being the Green Lantern in secret. I'd be most amused, perhaps even charmed, if Reynolds' wife Scarlett Johansson ends up with the role.
Feel free to put your mind to suggesting potential players in the comments section below. I'd love to know who you come up with.