Animation Clips: Trailer For Gorgeous Short Film Urs; Wallace & Gromit Hit DVD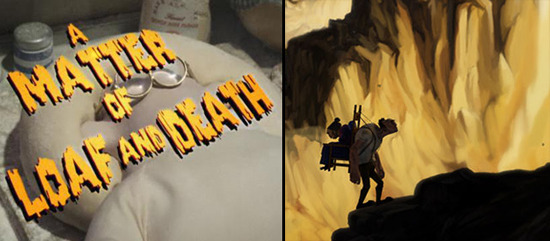 I'm a sucker for the animation of Nick Park. Though it was good to see him working in features, I think that Wallace and Gromit are much better off anchoring short films. Park's most recent short with the man and dog pair, his first film project with the characters since 2005's Curse of the Were-Rabbit and their first new short since 1995(!), is A Matter of Loaf and Death. The short aired in the UK and Europe over the last Christmas (i.e., if you're not in the US this is old stuff) but will finally be getting a real US release via DVD next week.
We've got a clip from that, and for something new, check out the trailer for a very pretty German short film called Urs, after the break.
ComingSoon has the Wallace & Gromit clip as an exclusive, but thankfully they've provided some embed code. The short recap here is that the duo have opened a new bakery called Top Bun, and may be the next target of the Cereal Killer, a murderer who is targeting all the bakers in their town. But Wallace is a bit distracted, as he's fallen for Piella Bakewell, a commercial star. As the clip begins, Piella has begun to exert her influence on Gromit's territory. The 'Let's be Friends!' poster killed me.Twitch, meanwhile, has the trailer for Urs, a short film that combines matte paintings and CGI characters. The combined look works exceptionally well based on what I can see here. The film is the product of Moritz Mayerhofer, and is his graduate thesis project for the Filmakademie Baden-Wuerttemberg of Germany. The official synopsis for the ten-minute short is as follows:
Many years Urs looked after his aging mother. But now he sets out for a dangerous journey: He carries her up a mountain to find a better place for both of them. But his mother doesn't want to leave her home... URS is a story about responsibility. How long can you bear an intolerable condition? Isn't it good to try to change things? But what about others. Can you really decide what's the best for someone else?
A lot of people are going to think immediately of Up while watching the trailer, thanks in part to the character design, the theme of aging, and the adventurous basic plot. But the look is so lovely that I set the comparisons aside pretty fast. You can read more about Urs at the film's official site.