Sony Buys Woody Harrelson's Hero Flick Defendor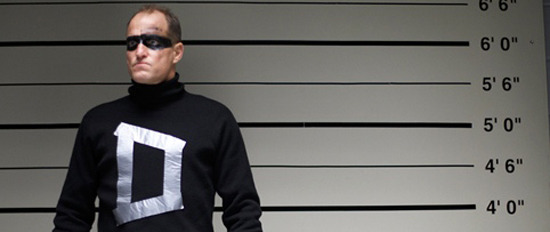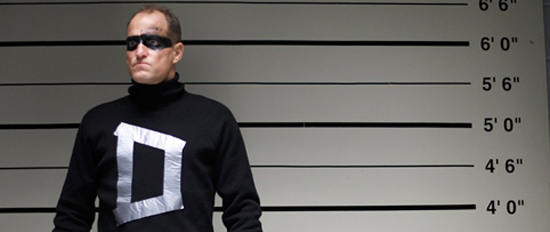 I've been unabashedly up on Defendor's jock ever since the first images dropped, and it's been good to see the film get some decent notes out of Toronto. The Canadian film, directed by first-timer Peter Stebbings, stars Woody Harrelson as a homespun superhero out to defeat a villain who may or may not exist. Kat Dennings, Sandra Oh and Elias Koteas co-star. And now you'll probably get to see it. Probably.
So, the good news is that Variety reports Sony has picked up the film. The company bought almost worldwide rights, including the option to distribute the film in the US. The downside is, the trade notes that so far Sony has no plans for a US release. Granted, the company just bought the film, so that's not a huge deal. Plans could easily fall into place over the next couple months. More than likely, Sony will figure out what to do with the film based in part on the opening of Zombieland, also starring Harrelson. That would make sense, anyway.
The film has done reasonably well at Toronto. Todd Brown of Twitch liked it quite a bit — maybe not a huge surprise, as it's right up his alley. Harrelson  "creates such a compelling figure out of Arthur / Defendor that it becomes easy to find the humanity and tragedy in the character," writes Brown, noting that the performance is strong enough to overcome the film's handful of script flaws. Toronto magazine Eye Weekly basically concurs, saying "that this dark street fantasy works is testament to Harrelson's weird, wistful performance and a movie that, despite its efforts to be as brazenly naïve as its hero, is just as gold-hearted." Variety was a bit more restrained, though "modest but likable," as the trade calls it, is probably about on the money, and I can deal with that.