Mark Millar Promises Kick-Ass 2 Set Up In Kick-Ass 1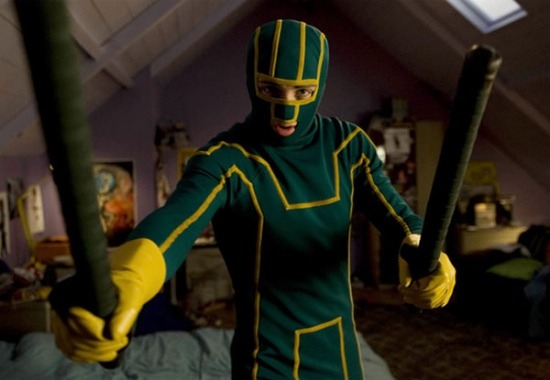 We already know that Mark Millar has plans for a sequel to Kick-Ass because he's told us when he thinks it will go before cameras but we don't, officially at least, know much about what it will entail. Now, though, he's promised that a teaser for the sequel is going to play out at the end of the first film. What's more, he's revealed that the same teaser is going to pay off the first run of the comic series, suggesting that the books and movie are going to follow a very similar path throughout. Until now, that wasn't entirely clear as the film remains unseen and the comics story is still mid-run.
Talking to MTV, Millar promises "It didn't cost that much money to make. There will definitely be another one." That's all good, but the question now, I suppose, is whether Lionsgate's deal on the first film will give them any option on a sequel or if Disney, seeing as Kick-Ass comes from Marvel, will get to reap the rewards.
I know full well how Kick-Ass ends, having read the screenplay. I would promise to e-mail those of you who ask nicely some spoilers but the last time I did that with Sherlock Holmes I ended up accidentally deleting about half of the request e-mails I received and looked like a jackass to their owners. An old script review I wrote for Comic Book Resources sort of sidesteps the issue too... So, I guess I'm just telling you that you'll have to wait and find out for yourself.
What I will say is that this suggested sequel changes the rules somewhat. Kick-Ass, Defendor, Super and Special all seem to fit in the same box whereas the Kick-Ass 2 Millar seems to be hinting at will be playing a different game altogether. Probably for the best.
Sometimes these sequel teasing endings backfire, I feel. Countless times I've heard people complaining on their way out of the auditorium, "And that ending... that's just so they can have a sequel." And that doesn't necessarily happen less with better loved films either. They are, of course, particularly embarrassing when no sequel comes along.
Could 2011 be the year of the Millar sequels, with Wanted 2 joining the Kick-Ass follow up on silver screens worldwide? Doesn't seem impossible.