Paramount's Official Paranormal Activity Movie Trailer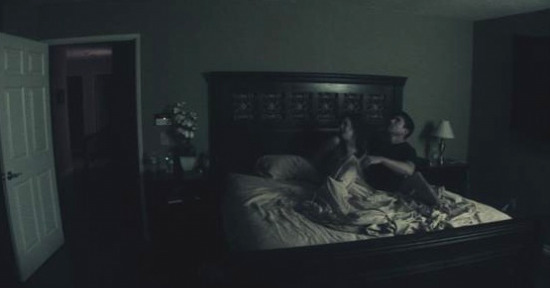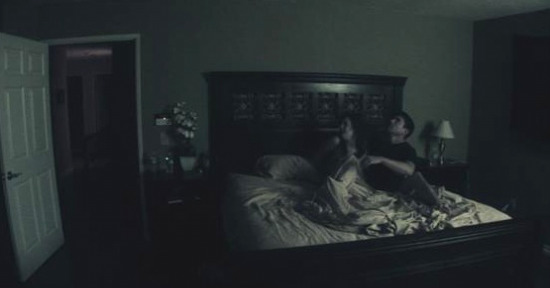 The ultra-low-budget horror film Paranormal Activity has been building acclaim over the past year since it screened at the Screamfast and Slamdance film festivals. I was able to see this film, in the dark, in an outdoor park, at the Telluride Film Festival, and I think Paramount has the next Blair Witch Project on their hands, if they market it right. Even if you aren't creeped out, you're sure to have a lot of fun if you see this in a packed auditorium. Teenage girls at my screening were screaming throughout. A door opens by itself, scream. Nothing happens, scream. The way this film builds tension, will have you on the edge of your seat, and your date squiring and gripping for your arm in the seat next to you.
Right now they're doing a very small release, in a few select cities on September 25th, to get people talking. They have released a brand new movie trailer, which consists mostly of reactions to a test screening. Smart move.  I must warn you, one of the shots in the trailer is from very late in the film, and could be considered a spoiler. Watch the new trailer embedded after the jump.
The film was shot for $11,000 over the period of one week, for the most part with two actors in a house. Directed by first time writer/director Oren Peli, Paranormal Activity is inspired by Peli's own experiences with strange noises after moving into a new house. The film centers around a young couple (played by Micah Sloat and Katie Featherstone) who learn that their house is haunted, and end up having increasingly disturbing experiences.
The film consists entirely of home video footage, which is probably why it's drawing comparisons to Blair Witch. But I assure you, this film crams a lot more story and character development into 10 minutes than the entire Blair Witch, and the crappy sequel.
Watch the trailer in High Definition on Apple.