New Posters: A Christmas Carol, Saw VI, Men Who Stare At Goats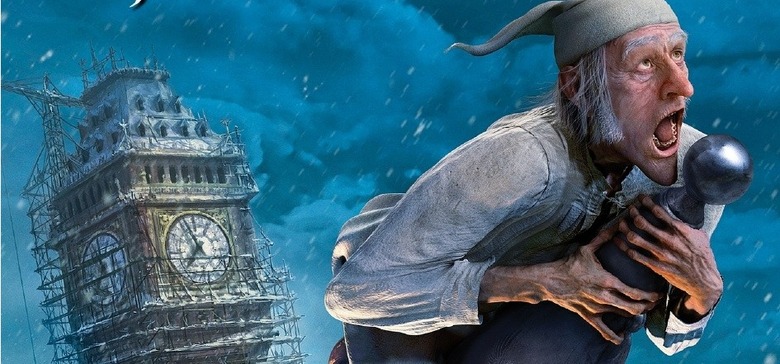 A batch of new posters have hit the interwebs today, including a final one-sheet for Robert Zemeckis' A Christmas Carol, the Lionsgate horror sequel SAW VI and the book adaptation Men Who Stare at Goats starring George Clooney. Preview the posters after the jump.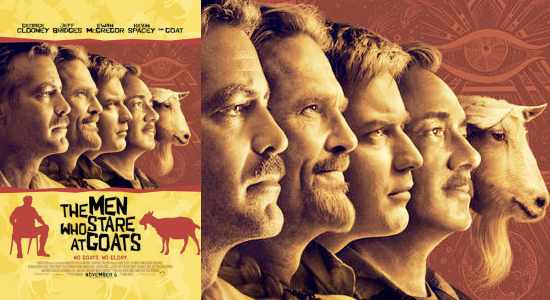 Yahoo has premiered the poster for Grant Heslov's adaptation of Men Who Stare At Goats, which stars George Clooney. I had a chance to screen this film during the Toronto Film Festival, and was left pretty disappointed. ?It's worth checking out, but lower your expectations.
MEN WHO STARE AT GOATS
Opens November 6, 2009
Directed by Grant Heslov
Cast: George Clooney, Jeff Bridges, Ewan McGregor and Kevin Spacey
In this quirky dark comedy inspired by a real life story you will hardly believe is actually true, astonishing revelations about a top-secret wing of the U.S. military come to light when a reporter encounters an enigmatic Special Forces operator on a mind-boggling mission.  Reporter Bob Wilton (Ewan McGregor) is in search of his next big story when he encounters Lyn Cassady (Academy Award® winner George Clooney), a shadowy figure who claims to be part of an experimental U.S. military unit. According to Cassady, the New Earth Army is changing the way wars are fought. A legion of "Warrior Monks" with unparalleled psychic powers can read the enemy's thoughts, pass through solid walls, and even kill a goat simply by staring at it. Now, the program's founder, Bill Django (Oscar® nominee Jeff Bridges), has gone missing and Cassady's mission is to find him.  Intrigued by his new acquaintance's far-fetched stories, Bob impulsively decides to accompany him on the search. When the pair tracks Django to a clandestine training camp run by renegade psychic Larry Hooper (two-time Oscar® winner Kevin Spacey), the reporter is trapped in the middle of a grudge match between the forces of Django's New Earth Army and Hooper's personal militia of super soldiers. In order to survive this wild adventure, Bob will have to outwit an enemy he never thought possible. The Men Who Stare at Goats was inspired by Jon Ronson's non-fiction bestseller of the same name, an eye-opening and often hilarious exploration of tabilities to combat its enemies.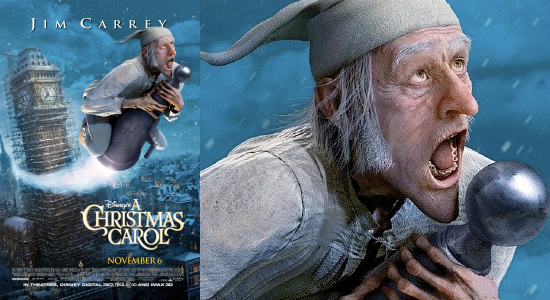 Cinematical has premiered the poster for Disney's A Christmas Carol, a performance capture 3D adaptation f the classic Charles Dickens story. Click on over to see the poster in high resolution.
DISNEY'S A CHRISTMAS CAROL
Release Date: November 6, 2009
Cast: Jim Carrey, Gary Oldman, Colin Firth, Bob Hoskins, Robin Wright Penn, Cary Elwes
Written for the screen and Directed by: Robert Zemeckis
Producers: Steve Starkey, Robert Zemeckis, Jack Rapke
Based on the classic story by: Charles Dickens
DISNEY'S A CHRISTMAS CAROL, a multi-sensory thrill ride re-envisioned by Academy Award®-winning filmmaker Robert Zemeckis, captures the fantastical essence of the classic Dickens tale in a groundbreaking 3D motion picture event. Ebenezer Scrooge (JIM CARREY) begins the Christmas holiday with his usual miserly contempt, barking at his faithful clerk (GARY OLDMAN) and his cheery nephew (COLIN FIRTH).  But when the ghosts of Christmas Past, Present and Yet to Come take him on an eye-opening journey revealing truths Old Scrooge is reluctant to face, he must open his heart to undo years of ill will before it's too late.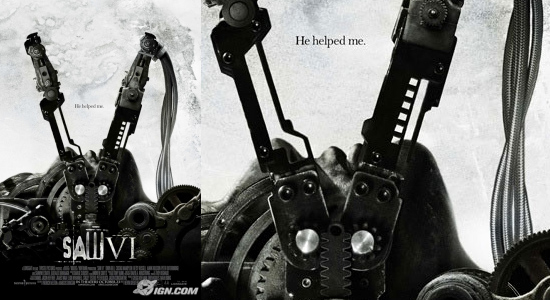 IGN has premiered the poster for the latest installment of Lionsgate's evergreen horror series, SAW VI. Click on over to see the new trap in higher resolution.
SAW VI
Release Date: October 23rd 2009
Special Agent Strahm is dead, and Detective Hoffman has emerged as the unchallenged successor to Jigsaw's legacy.  However, when the FBI draws closer to Hoffman, he is forced to set a game into motion, and Jigsaw's grand scheme is finally understood.