David Fincher's 2009 Nike Commercial "Trail Of Destruction (Alter Ego)"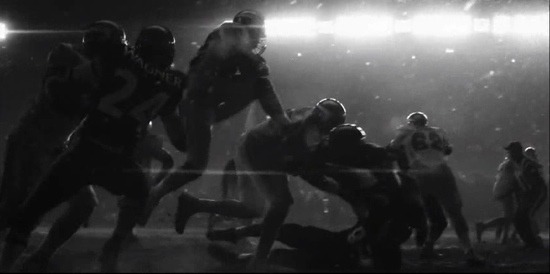 Back in October of 2008, we posted "Fate", a Nike commercial that David Fincher (Fight Club, Se7en) directed which told the life-long journey of pro football players LaDainian Tomlinson and Troy Polamalu as their destinies collide in an NFL football game, set to a remix of Ennio Morricone's "The Ecstasy of Gold" from The Good, The Bad, and The Ugly (if you haven't seen it, trust me, click the link).
Before Fincher ventured off to direct the Facebook movie The Socail Network, he filmed another Nike spot — not as great as his last effort, but worth watching none the less. The new spot is titled "NIKE Pro Combat: Trail of Destruction (Alter Ego)". Watch it after the jump.
Based on a concept by Wieden & Kennedy, the portland-based advertising agency behind some of Nike's best campaigns (including Bo Knows, Spike Lee's Mars Blackmon Air Jordan ads, Charles Barkley's I Am Not a Role Model ad), the Bruce CVampbell Old Spice "Experience is Everything" ads, and Coke's The Coke Side of Life campaign. Filmed by cinematographer Emmanuel Lubezki (Sleepy Hallow, Ali, Great Expectations, Children of Men), and edited by Angus Wall (Benjamin Button, Zodiac, Thumbsucker, Panic Room, and the creator of the title sequences for Carnivale, Rome, and Big Love).
via: coloribus