Michael Bay And Steven Spielberg Meet To Discuss Transformers 3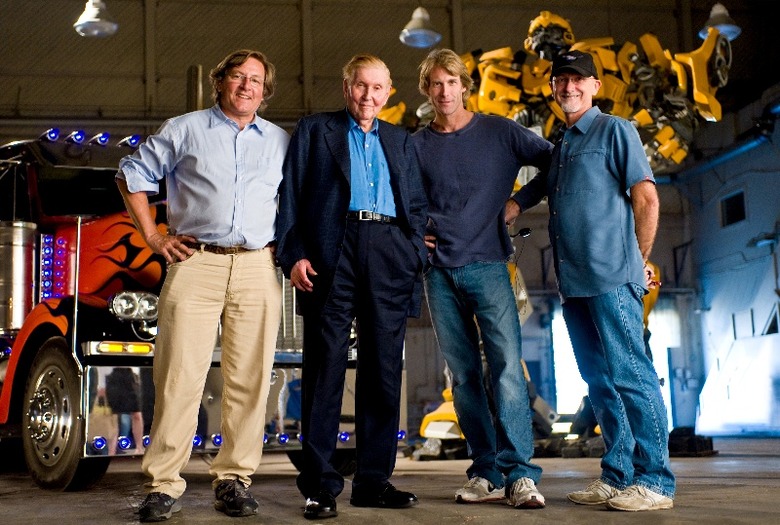 Michael Bay has given an update on his developing upcoming projects on his official website. Bay says that he will be meeting later this week with producer Steven Spielberg, and screenwriter Ehren Kruger to discuss ideas for Transformers 3. By the end of the week he will probably have a better idea if a third film will hit theaters in the summer of 2011 or 2012.
Paramount/Dreamworks originally announced a July 1st 2011 release date for a third film, but Bay has been saying that he wants to make a smaller film before returning to the big robot action. And a Summer 2011 release date would mean that he would need to begin development within a couple months of the release of Transformers 2.
Screenwriters Alex Kurtzman and Roberto Orci have their plates full already. They are working on Cowboys and Aliens, and have promised Paramount a draft of Star Trek 2 by Christmas. But the Transformers scribes have already publicly said that they aren't necessarily interested in returning for a third film. And some might argue that it would be best for the project if Kurtzman and Orci were not being involved in a third film. Opinions of Orci and Kurtzman aside, it's worth noting that the writer's strike is more likely to blame for the subpar screenplay for Revenge of the Fallen.
It seems more likely that Bay will move ahead with his self-described "small Pulp Fiction-like project", Pain & Gain, which tells the true story of a couple of Florida steroid-abusing knucklehead bodybuilders who become criminals involved in an extortion ring and a a kidnapping plot that goes horribly awry [read more info about that project here]. The project actually sounds like a nice departure for Bay, a film which is more character development than explosions (actually, from what I hear, there is no explosions, only a car crash).
Also, you may remember a couple weeks ago that Columbia Pictures hired Peter Craig to write a screenplay for Bad Boys 3, even though none of the original participants have yet agreed to return (and would likely cost a fortune). Bay says that either Pain & Gain or the Bad Boys Threequel will follow next, and the other likely will pop up after the third Transformers film.