Peter Berg's Battleship Set For July 2011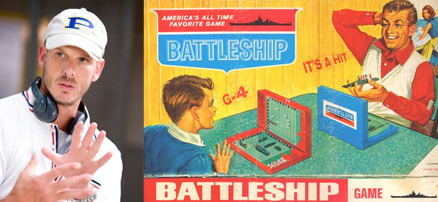 Universal has officially signed filmmaker Peter Berg (who was in talks) to direct a big screen adaptation of Hasbro's board game Battleship. The big news is that Berg will be making the live-action film as his next project, part of a new two-picture deal with the studio. This also means we probably won't see Hancock 2 go into production for a few years. Universal has announced a July 2011 release date for the sea-based action film.
Brother screenwriting team Jon and Erich Hoeber wrote a script, which is said to be "an epic naval action adventure" loosely inspired by the game. Berg calls the film "a contemporary story of an international five-ship fleet engaged in a very dynamic, violent and intense battle." Details about the enemy force have not been revealed. Berg tells Variety that the  project was inspired by the ship-bound stories told by his naval historian father:
I've been consumed with doing one of these since I tried to convince Tom Rothman at Fox to make a film about John Paul Jones, the founder of the American Navy," Berg said. "As a kid, I was dragged from Navy museum to museum, and spent so much time on ships, listening to my father talk about the great battles of WWII, I did my high school thesis on the Battle of Midway. When this came up, it didn't take me long to find a take for a film that is filled with raucous action-packed naval battles.
Actor turned filmmaker Berg has directed Very Bad Things, The Rundown, Friday Night Light, The Kingdom and Hancock. The Hoeber brothers recently adapted the comic book action thriller Whiteout, Warren Ellis' Red, and an adaptation of the video game American McGee's Alice, which is likely in development heck.
Universal has a multi-picture development deal with Hasbro/Milton Bradley.