The September Issue Movie Trailer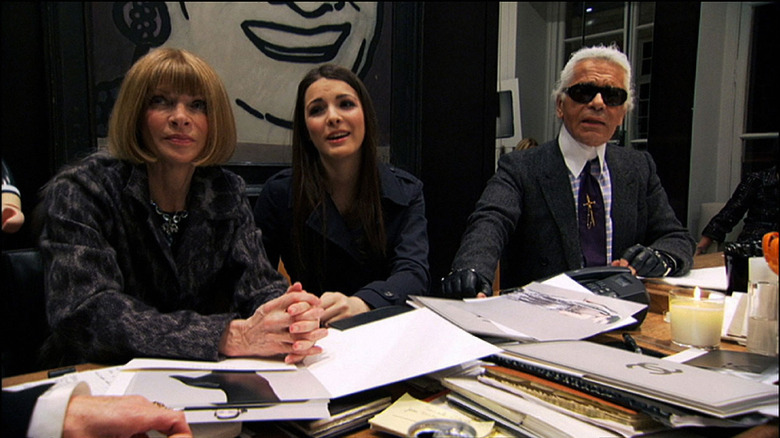 Editor's Note: This trailer was released a couple weeks ago, but we never got around to covering it. Now that we have the time, here it is.
Amidst the on-going events of New York Fashion Week, the well-received Anna Wintour/VOGUE documentary, The September Issue, opened in limited release in select cities on Sept. 11th. Appropriately enough, say the snarks. As the trailer below nicely alludes, the doc has a number of factors working in its favor per mainstream interest, not least of which is an unprecedented IRL look at the woman/editrix who served as the basis for The Devil Wears Prada. The title refers to the annual, fabled fashion tome, and, more specifically, to the 2007 edition, which "ended up weighing nearly five pounds, was 840 pages, and was the single largest issue of a magazine ever published," in VOGUE's 's 117-year history.
Of course, the movie will also come to be viewed in the years ahead as a time capsule capturing a mag industry figureheaded by only a few larger-than-life editors, ones who have household names and maintain powerful-if-not-Draconian personalities (alongside Vanity Fair's Graydon Carter and Rolling Stone'sJann Wenner).
Issue has received agreeable marks for documenting the closed-door relationship and creative dichotomy between Wintour and VOGUE's ginger-haired senior stylist and creative director, Grace Coddington (she's served on the masthead for just as long, dating back to 1988). Director R.J. Cutler—I'm still not clear on how he arranged the exclusive access—and cinematographer Bob Richman (the Paradise Lost docs) both feel that Coddington ended up becoming a charismatic highlight; the Washington Examiner even refers to her as its "unsung heroine" for her displayed ability to stand up for ideas and ideals, however the outcome.
If there's a recurring quibble in reviews it's that, unlike Meryl Streep's facsimile in Prada, Wintour's image and characteristic 'do loom over the real person; but viewers probably expect that given the calculated superficiality of high fashion. The trailer does a good job at making the film seem substantial and not a complete gloss-over, while offering the name-drops, flaming one-liners, and camera flashes requisite for any modern doc on the fashion world. If you've managed to check it out, let us know what you thought in the comments.