Michael Jackson's This Is It Trailer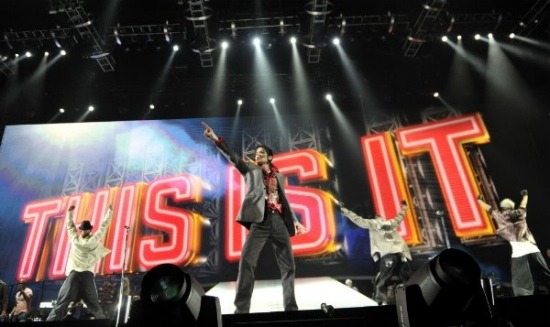 Sony has released a trailer for This is It, the Michael Jackson concert rehearsal documentary film which is being rushed out for a late October release. The film is being released for a special, limited, two-week engagement worldwide on Wednesday, October 28th. Watch the trailer now after the jump.
From the press release:
Kenny Ortega directed the film, which is produced with the full support of The Estate of Michael Jackson. Ortega, director of and Jackson's creative partner on the THIS IS IT concert, said, "This film is Michael's gift to his fans. As we began assembling the footage for the motion picture we realized we captured something extraordinary, unique and very special. It's a very private, exclusive look into a creative genius's world. For the first time ever, fans will see Michael as they have never seen him before – this great artist at work. It is raw, emotional, moving and powerful footage that captures his interactions with the THIS IS IT collaborators that he had personally assembled for this once in a lifetime project. This film shows a consummate performer working with and guiding singers, dancers, band members, choreographers, special effects creators and countless other creative members of the team as we all assemble this historic concert. I can think of many words to describe Michael as he rehearses for and creates THIS IS IT– inspirational, dynamic, generous, dedicated, loving and the guiding force—you see him as the true architect and driving force of this project – a true master of his craft, the Entertainer of Entertainers. I'm proud of the many years of friendship and creative association I shared with Michael and I'm happy that people will get a chance to see his spirit and drive in action. THIS IS IT may go down as the greatest concert that no one got a chance to see, but with this film, we get a rare portrait of Michael as he prepares for his final curtain call and what I believe was going to be his master work."
Michael Jackson THIS IS IT will offer Jackson fans and music lovers worldwide a rare, behind-the-scenes look at the performer as he developed, created and rehearsed for his sold-out concerts that would have taken place beginning this summer in London's O2 Arena. Chronicling the months from April through June, 2009, the film is drawn from more than one hundred hours of behind-the-scenes footage, featuring Jackson rehearsing a number of his songs for the show. Audiences will be given a privileged and private look at the singer, dancer, filmmaker, architect, and genius as he creates and perfects his final show.
"I have never been partners with a more creative, innovative or groundbreaking entertainer than Michael Jackson," said Randy Phillips, President & CEO, AEG LIVE and producer of Michael Jackson THIS IS IT. "While the concerts would have been the greatest shows in the history of music, our film will provide a historic event for Michael's fans to see for themselves the genius that he was and the creativity, talent and imagination that the entire cast devoted to create the 'greatest concert that never happened'."
Watch the trailer in high definition on MySpace.