Featurette On Todd Solondz's Life During Wartime Starring Paul Reubens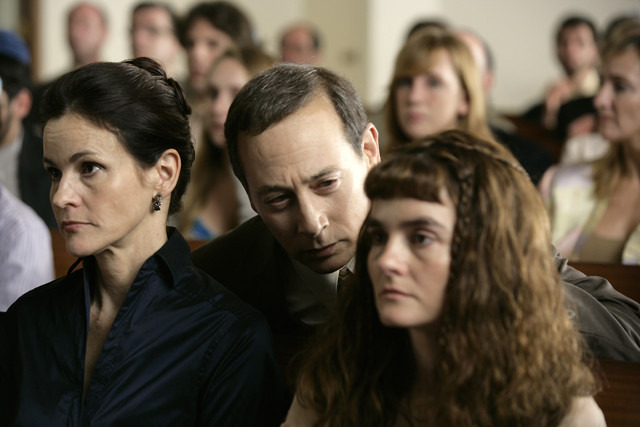 Update: Buzz continues to build as the film just won Best Screenplay at the Venice Film Festival.
I like how Todd Solondz talks. In the below featurette—ideal for a Saturday afternoon in both length and Puerto Rico palm casualness—the writer/director of Welcome to the Dollhouse discusses his new film, Life During Wartime. Yep, titled after the Talking Heads' classic. You may or may not know that Wartime is being cited in early reviews as a return to form for Solondz, the rare American director who is unwaveringly committed to exploring the fringes and norms of society.
There was a time in the mid '90s when I actually confused Solondz and Wes Anderson, due to their media-buzz indie predilection and similar disheveled nerd-artist appearances. Funny that in 2009, that seems like such an odd and off mix-up. Perhaps tellingly so. Wartime stars Paul Reubens, in sickly make-up, the swell Allison Janney, a dour-looking Ally Sheedy, and Little Boston's Paul Dano, and finds Solondz revisiting and reimagining several characters from his controversial pedophile study Happiness, in addition to ones from Dollhouse. Variety has called it Solondz's best.
The revisiting of past characters remains an esoteric creative decision that still worries me, because it automatically limits the film's accessibility in the minds of unfamiliar readers and even potential viewers. Rewatching Solondz's works is like sifting through a closet of well-crafted skeletons. However, Wartime is said to work as both a stand alone effort and an exploration of his damaged parallel universe. Props to The Playlist for creating an extremely thorough and cool character key to illuminate which actors have played which characters in this film and prior ones.
For instance, Reubens plays "Andy, the loser schlub character played by Jon Lovitz (in Happiness)." Last year, Peter speculated that Reubens would be reprising Dylan Baker's haunting pedophile character, and I'm glad to see—for Pee-Wee Herman's comeback's sake—that this is not the case.
Hopefully a trailer will debut soon, and possibly some /Film coverage of the film, which is scheduled to play at the Toronto International Film Festival. Here's the TIFF's plot synopsis...
...

Life During Wartime

revisits Solondz's unsettling terrain with new maturity.
Separated from her incarcerated husband Bill (Ciarán Hinds), Trish (Allison Janney) is about to be married again. Bill is a pedophile, so Trish couldn't be more excited to have Harvey (Michael Lerner), a "normal" father figure for her two sons. But when Bill is released from prison and the boys finally meet their future stepdad, the family is forced to decide whether to forgive or to forget.
Trish's sister, the virginal, angelic Joy (Shirley Henderson), is also haunted by ghosts of lovers past. On leave from her degenerate husband, Allen (Michael Kenneth Williams), and her job at a New Jersey correctional facility, Joy unwittingly leaves behind a trail of shame and exposed secrets wherever she goes. In one of the film's most stylized sequences, the image of Joy walking the dark streets of Miami in her nightgown maintains her innocence against a backdrop of self-affliction and desire.
Something about this film seems to have clicked. His last film, Palindromes, is one of the few films that I've ever considered stopping three-fourths of the way in, because I simply found it too affected and miserable. I felt like the purpose of that film was to harm my mind in some way, recalling one of the fabled goals of Stanley Kubrick. Yet, I look forward to seeing this flick and much more of Solondz discussing his process and career in the press. An interview on Charlie Rose would seem obvious. Or hey, maybe one with /Film. "Hollar, Todd." I bet such a lame inquiry would send him into existential freefall. The tell-tale sign of an artist!