Guillermo Del Toro's 'D' Project Revealed: A New Disney Animation Label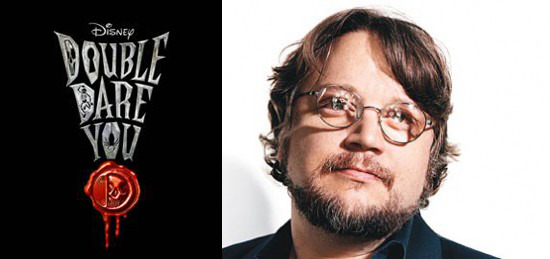 Recently Guillermo Del Toro teased us with an announcement of a project relating to the letter 'D'. Speculation ran rampant that it would be anything from a film based on DC's character Deadman to his projected adaptation of Drood by Dan Simmons, to all sorts of other outlandish stuff.
Now we know the deal: he's teaming up with Disney to launch a new animation label called Disney Double Dare You, which will "create new animated films full of chills and thrills for audiences of all ages."
We don't know too much more than the basics right now. Del Toro will be producing all films under the banner, and directing some projects. (How and when he'll do that, considering the rich set of projects already on his plate, remains a mystery. I'm thinking clones.) He did appear via satellite at Disney's D23 panel today to make the announcement. He says the intent of the label is to touch on the scary side of Disney, seemingly alluding to the sensation of evil and chills created by villains in classic Disney animation. But "the emphasis is on fun, and we have some great ideas already on the storyboards," he said.
The first feature will be Trollhunters, which GDT tells Variety is based on an original story he wrote. Additionally, the Double Dare You films will be linked by "one feature that shall remain secret, but that you shall soon be very familiar with."
Here's the press release from Disney:
Anaheim, California — September 11, 2009 — The Walt Disney Studios, in collaboration with acclaimed filmmaker Guillermo del Toro ("Pan's Labyrinth," "The Hobbit"), is launching a new production label called Disney Double Dare You, to create new animated films full of chills and thrills for audiences of all ages, it was announced today at the D23 Expo by Dick Cook, chairman of The Walt Disney Studios.  All films will be produced under the guidance of del Toro, who originated the concept and the design of DDY and who will also direct certain projects. The first project in development for the new label is called "Trollhunters," an original del Toro story which he will produce.
Commenting on the announcement, Cook said, "Guillermo is a brilliant and visionary filmmaker, and we're excited to be launching this new label with him. His knowledge and appreciation for Disney films, along with his penchant for creating worlds of fantasy, presented a great opportunity for us to explore a whole new genre of filmmaking for moviegoers of all ages. We have admired Guillermo's imaginative approach to filmmaking for some time, and now we're proud to be working with him to create films full of imaginative delights and lots of thrills at the same time."
Del Toro added, "As a director, I love to take audiences into fantastic new worlds and provide them with some anxious moments in the process.  It is part of the Disney canon to create thrilling, unforgettable moments and villains in all their classic films.  It is my privilege for DDY to continue in this tradition. To partner up with The Walt Disney Studios, with the support of Dick Cook and John Lasseter, is to belong to a storytelling partnership that I admire deeply.  It is a true honor.  I look forward to coming up with fresh and original stories that will take Disney films in a whole new direction. The emphasis is on fun, and we have some great ideas already on the storyboards."
Del Toro's Pan's Labyrinth received six Academy Award® nominations in 2007, including one for his original screenplay, and went on to win three awards. That film also received a BAFTA Award for Best Film not in the English language. His other directing credits include "Hellboy," "Hellboy II: The Golden Army," "The Devil's Backbone," "Cronos," and "Mimic," among others. Del Toro is currently directing back-to-back feature film adaptations of the Tolkien classic, "The Hobbit," for release in 2011 and 2012.