Takers Movie Trailer (Like Heat With Paul Walker, Chris Brown, And T.I.)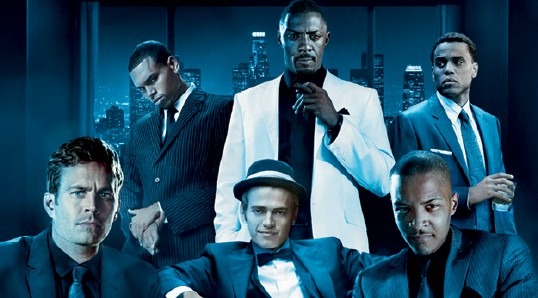 This is what happens when the Ed Hardies of the world demand a contemporary, made-for-BET version of Heat that stars lawless idiots like Chris Brown, T.I., and...Hayden Christensen thugged out in a $300 fedora and bowtie. Elegantly entitled to the chagrin of Bryan Mills, Takers, the film opens early next year. To add further insult to injury (and Michael Scott's DVD collection), The Wire's Idris Elba appears to be playing the De Niro mastermind in this $20 million bank robber thriller, hence no room on the poster for co-star Matt Dillon, taking on Pacino detective duties. Take the time to see the brilliance for yourself below and then Spinja-it-out with Chris Brown defenders in the comments...
Bulletproof Plot Synopsis: Takers centers on a notorious group of criminals who continue to baffle police by pulling off perfectly executed bank robberies. They are in and out like clockwork, leaving no evidence behind and laying low in between heists. But when they attempt to pull off one last job with more money at stake than ever before, the crew may find their plans interrupted by a hardened detective (Matt Dillon) who is hell-bent on solving the case.
"We're in trouble here. The street blew up!" It's pretty telling when the most anticipatory thing about a trailer is the possibility that Paul Scheer, Rob Huebel, and Aziz Ansari will declare their mutual anticipation on Tumblr. Takers is directed by John Luessenhop, who made his debut, and gained his sole director's credit, with Lockdown starring Master P and a character named Alize, presumably in homage to the red passion liquor of the streetz. Judging by the flashy stylistic sheen and love of real-talk dialogue, the guy probably watches Hype Williams's Belly as he's directing. Luessenhop also co-wrote the script with three other guys, all of whom are said to light cigars with dead presidents and are next in line for an acid Jacuzzi scare.