Rainn Wilson, Ellen Page And Liv Tyler Cast In James Gunn's Real-World Superhero Story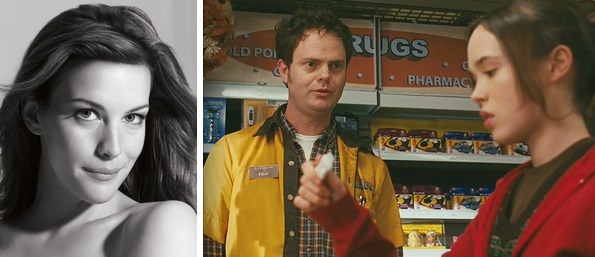 Twitter snoops and the /Film faithful may recall that James Gunn and Rainn Wilson have been out on the town, shopping around their superhero project. The first deals seem to have been brokered now and the big announcements have hit: the film will be called Super and is also set to star Liv Tyler and Ellen Page. Some of the details sound a little Kick-Ass, but that's fair enough, and besides, Page's role sounds like such a good one I'm sure we can all get pumped up for this film on that basis alone.
After Variety ran their piece, James Gunn himself posted more details on his blog. Unsurprisingly, his pitch isn't exactly like the one in the trade paper. We'll stick with the writer/director's version:
Rainn will be playing the lead role of Frank D'Arbo who dresses up as a superhero called the Crimson Bolt; he's got no superpowers other than a pipe wrench. Rainn and I both worked hard to get the best possible folks involved. We were lucky to get Ted Hope to produce – he's done such movies as Happiness, The Ice Storm, The Savages, American Splendor, and 21 Grams. This is not a wacky, over-the-top comedy. Super is a dark, comedic, gritty, very unusual, and grounded film and I think Ted is just the guy to help us get it done right.
Gunn promises that Tyler and Page were the first choices for their roles. Gunn describes their roles like this:
Liv will be playing Sarah, Frank's wife, who leaves him for a drug dealer, and Ellen will play the role of Libby, a young sociopath who dons a costume and forces herself into Frank's life as his "kid sidekick."
I'm sure you can see the Kick-Ass crossover without me spelling it out, but if there's room for umpty-gazillion films in which superheroes do have powers/billion dollar budgets/incredible gadgets, I'm more than happy for there to be a good few in which they don't. It seems inevitable that such a film would be a dark comedy, but maybe we'll one day get one that isn't.
While Variety says the film "takes aim" at superheroes, Gunn reassures us that "it's not a spoof." He's done the spoof thing already, of course, with The Specials, a cult film whose cult is on the wane a little, sadly. Where are those lat night cable screenings when you need them?
Here's a last sales blurb from Gunn:
[Super is] an examination of what it means to try to be something more than human. I think of it as The Passion for rebels, oddballs, fanboys, and freaks everywhere. I've never been more excited or committed to any project in my life, and I can't wait to share more with you all.
Sounds like he believes it, and it sounds mighty painful for Wilson's character too. I'll bite.
Here's on outstanding mini-mystery: does this film have anything at all to do with Rainn Wilson and Nathan Fillion's meeting with DC comics? Could Fillion be a potential player for the charming drug dealer?