Horror Clip Round-Up: Douche Brothers, Eli Roth, Survival Of The Dead And Splice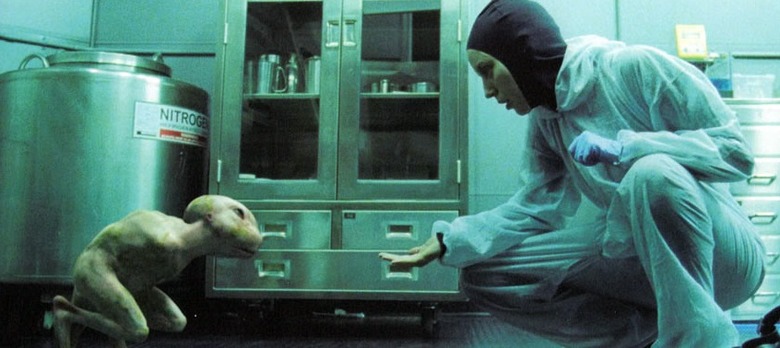 I'll tell you up front that the Splice video is not online and I'll just be telling you about it, though it was rather marvelous and really very exciting and I'll try and convey that. The others, though, are embedded after the break – An American Douchebag in London part 1, Eli Roth's commercial for Peta and some Survival of the Dead publicity.
After signing up to Twitter, and with his real name too, not some kind of fangled handle, Eli Roth's second ever tweet was the tease:
So something I directed and starred in will be debuting tomorrow...
I spent at leas five minutes in bed last night staring at the wall and wondering what it might be. Today, I'm out of my misery as Roth's campaign video for Peta has appeared online. Enjoy it:
One of the genuine highlights of the recent 10th anniversary Frightfest was the daily serial, An American Douchebag in London. The clips take footage from John Landis' wolfman classic, as well as a little bit of the Twilight Zone, and jam in Joe Lynch and Adam Green, horror directors, producers and now, comedy legends. If you saw their Road to Frightfest clips last year, these are similar but just a lot better. Here's epsiode one, but you'll probably want to catch the rest on the official Frightfest site.
[flv:https://frightfest.s3.amazonaws.com/RTFF1/RoadToFrightfest_EP1_FINAL.flv 550 314]
If you enjoyed that – and it went down a storm in the cinema where the pacing worked a bit better, the gaps stuffed full of laughter – know that Lynch and Green have been greenlit for Coffee and Donuts, a TV comedy show in a similar vein.
Another clip shown at Frightfest was the fishing excerpt from George Romero's Survival of the Dead. Russ ran a story on that one a few days back, when it hit online. There's more Survival video on the web though, including a pair of monologues from 'Sarge'. Here's the first, while you can find the second at Bloody Disgusting.
Screened at Frightfest but not online, at least as yet, was a world premiere clip from Vincenzo Natali's Splice. On the screen of the Empire Leicester Square it looked simply astonishing, liquid and bright. There was definitely some kind of clinical Kubrick sheen to the cinematography and production design, while Natali's own style, familiar from Cypher, Cube and Nothing, also shone through boldly.
The scene we were treated to comes from an early moment in the story. Clive and Elsa, as played by Adrien Brody and Sarah Polley, are a young couple who also work together trying to create new life forms from animal DNA. They won't use anything lifted from the human genome for ethical reasons, but everything else is fair game. At this moment, they've created something, their most advanced 'something' so far and it's incubating in the lab.
Clive decides that it should be terminated while Elsa disagrees. What follows is the unveiling of the creature, and a tense scene in a lab wherein the little critter tries to avoid termination. We get a good look at the 'thing' in both pupal and larval states, for want of better descriptions, and in both practical and CG renderings. It looks more than good enough and definitely didn't dampen the overall effect of the sequence – a growing, squirmy feeling of intrigue and fear cut with excitement.
I loved the script for Splice and Adrien Brody and Sarah Polley both seemed to be straight on target with their performances here. I know I'll have a little wait to see the full picture, but in the meantime I'd settle for the clip showing up online.