Cool Kids Casting - Anton Yelchin In The Beaver, Sarah Polley In Queen Kristina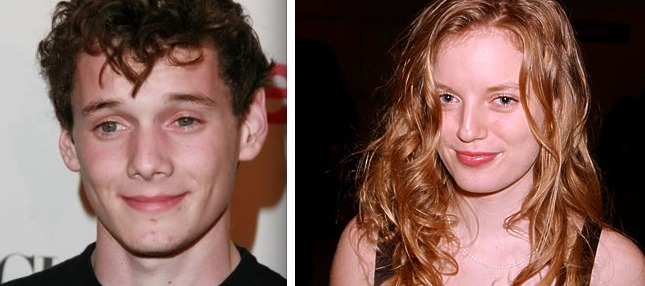 Okay, Sarah Polley and Anton Yelchin are only kids in the sense that, heck, I'm an old man but I'll stick by that 'cool' label. They've each just been cast in an interesting upcoming project – Yelchin in Jodie Foster's The Beaver, Polley in Mika Kaurismaki's Queen Kristina.
The screenplay for The Beaver is absolutely fantastic and, I'm pretty convinced, going to make for a really great film that should easily outpace the rest of Ms. Foster's directorial oeuvre. I reported on it last when Jim Carrey was eying the lead role, but since then Peter got to tell us that Mel Gibson was taking the part. That's right – Jim Carrey out, Mel Gibson in. Not quite as extreme a change as when Eddie Murphy replaced Sylvester Stallone in Beverly Hills Cop, but still a bit of a jump.
Yelchin's place in the cast is as the son of Gibson. I can see the likeness, can you? His character is called Porter and, like Yelchin's title role in Charlie Bartlett before him he's a highschooler who runs a little enterprise on the side. This time he's selling essay papers and in one special case, a graduation speech. He's probably the third lead of the film, after a glove puppet beaver and its owner, his dad and I think Yelchin's going to nail it. I hope this doesn't constitute typecasting though, for his sake. We don't want another Michael Cera grey-out on our hands. That was sad to watch, everybody starting to rag on Michael for the very things just a few months before we had professed our love.
Also cast in The Beaver is Jennifer Lawrence, presumably as Norah, the young lady that needs the speech. We don't really know Jennifer yet, but this is a good part and we'll remember her afterwards, I;m sure.
Queen Kristina is being directed by Mika Kaurismäki, brother of the Finnish master of deadpan humour, Aki (ie. the one with the bigger cult following so far). It is, unsurprisingly, going to be a biopic of Queen Kristina, 17th century monarch of Sweden. I don't know much about her but, apparently, she was the one that invited Descartes to visit only for him to fall ill in the cold and die within days. Ooops.
Polley has roles in two of my most eagerly awaited pictures of the remainder of 2009: Vincenzo Natali's Splice and Jaco von Dormael's Mr. Nobody. Indeed, she's been a fairly reliable barometer of a film's quality so far.