Peter Berg Says Charlize Theron And Will Smith Are Confirmed For Hancock 2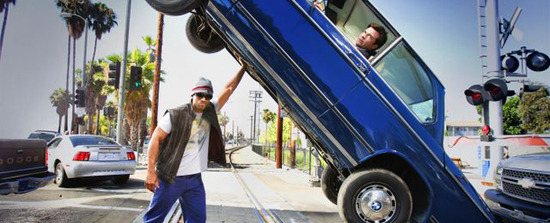 Not long ago we heard that a sequel to Hancock, the goofy, sometime fun, sometimes just dumb superhero flick starring Will Smith, was almost certainly a go. Questions lingered, however, primarily with respect to the cast. Would Will Smith return? What about Charlize Theron? According to director Peter Berg, the answer to both questions is yes.
Speaking to MTV, Berg recently said "everybody's going to come back for a sequel." Not a surprise for Theron, since she's already said she'd return if everyone else came back for another go-round. ("With those guys? If everybody's on board? Yeah!" Theron told MTV last year. "Riding the Will Smith train is a really nice train to ride.") Will Smith's involvement isn't exactly a surprise, but if he's really locked in then expect to hear about this going forward quickly. As one of the only true global superstars, nothing gets a big movie greenlit faster than a thumbs-up from Smith.
Not that we know what the movie might be about. Adam Fierro and Glen Mazzara are writing, but that's all we've got. Berg once said that there might be another god out there somewhere, which means another high-profile talent to add to the cast.
Spoiler time, if you haven't seen the first film: we learned that Smith and Theron's characters were really ages-old gods who become weaker when they're near each other. Improbably they both ended up in LA, connected by Jason Bateman's character. So now a third god? The resolution to the original film was a huge, ridiculous cop-out (the notion of Hancock really being an alcoholic human superhero was a lot more interesting) so this angle doesn't sound appealing at all.
What does this do to Berg's adaptation of Dune? At this point, who knows? But since the last time we heard anything about the film a script still had yet to be written, Dune doesn't seem like a project that was going anywhere quickly. Berg also has that Battleship project in the works about which, improbably, I've heard some very good things.