Solomon Kane International Movie Trailer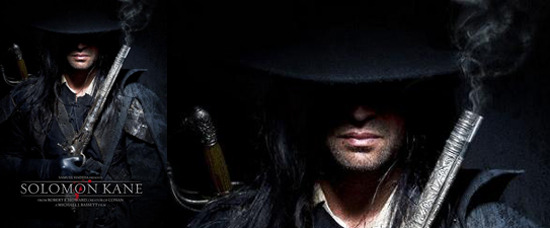 UPDATE: The English version of the trailer has appeared, so I've replaced the original embed with the new one.
At Comic Con, we saw the first footage from the independent production Solomon Kane, based on the character and stories created by Robert E. Howard. Now there's a trailer for the film, which will shortly be playing in the Toronto fest's Midnight Madness program. Sadly, the clip's text and audio is in Russian, but you'll probably be able to get the idea anyway. This is straightforward sword-and-sorcery storytelling, and anyone should understand all the necessary basics without any extra dialogue.
Michael J Bassett's film, which stars James Purefoy as Kane and is the first in a projected trilogy, doesn't yet have US distribution, which is why you'll have to make do with a Russian trailer. (Those fortunes may change as the film premieres in Toronto.) But this trailer is very much like the one we saw at Comic Con, perhaps even exactly the same, so it's easy enough to describe some of what you'll see here.
Over the first shots, Kane is likely narrating how he had been a warrior who renounced violence when he realized it had damned him. But when he agrees to travel with Pete Postlethwaite and his family, he is brought back into a life based around the sword, and ends up fighting a primal, shadowy evil.
I quite like the look of the film. It's going to draw easy comparisons to Van Helsing and Lord of the Rings, but they're all fantasy movies with a common visual language. That being the case, the designs in Kane look great, the action is heavy and brutal and I'm enjoying the small touches that set the designs of the evil characters apart from others. More to the point, this looks like what I always imagined when reading early fantasy like the stories of Robert E. Howard.
[via Coming Soon]