Disney Pixar Add Cast To Rapunzel, Bear & The Bow And Toy Story 3, Reveal Plot Of Cars 2 And Winnie The Pooh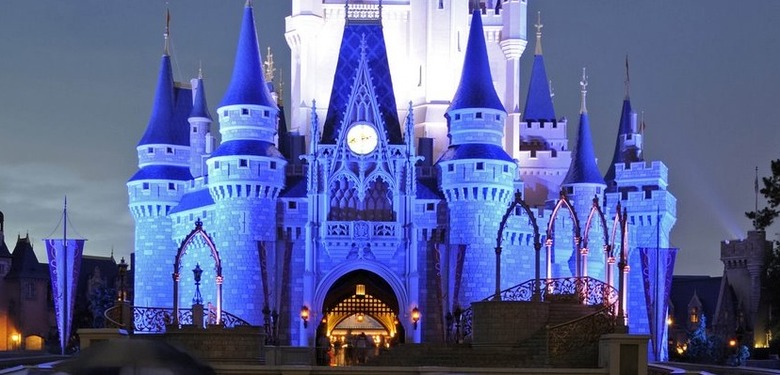 An official announcement about the casting of Disney's Rapunzel has been somewhat overshadowed by a spectacular Toy Story 3 reveal. We'll do those in escalating order of genius, and then round up a whole heap of other Disney Pixar tidbits from their big presentation held this morning in London.
Disney's plans to realize a toon retelling of Rapunzel have been whipping up a storm of memos in the Magic Kingdom since long before the Pixar takeover, and has likely morphed beyond all recognition in the meantime. About now it seems that things are firming up with some vocal talent being unveiled. Our lead heroine is to be voiced by Mandy Moore (who I always thought looked better with short hair) while Chuck's Zachary Levi will play a "dashing bandit" who hits the road with the "rebellious, teenage hair apparent."
You can thank Hollywood Reporter's Heat Vision blog for that last pun. I don't know what all of this business about hitting the road is – didn't Rapunzel remain trapped in a tower until the end of her particular fairy tale? I guess the original is just a kicking off point for this new Disney version. If I were going on the road, I'd rather get my hair cut than cart around 70 feet of the dang stuff, even if I did have Chuck to help me carry it. Rapunzel apparently disagrees with me; according to Empire magazine, she uses her tresses as an "Indiana Jones-style whip".
Talking of Empire... an hour or so ago they tweeted their big news on Toy Story 3 but have, while I've been drafting this post, published it in full on their site.
Speaking at a Disney presentation in London's Leicester Square, John Lasseter announced that Timothy Dalton is amongst the cast for their hotly anticipated threequel, playing a toy porcupine called Mr. Pricklepants. Yep. And even better still, Mr. Pricklepants fancies himself as something of a thespian. Score another big gold star on the Pixar perfect casting chart.
Audience members were also treated to the Toy Story 3 clip that played in Venice and also an as-yet unreleased trailer for the film. Here's Empire's take on it:
Clearly the toys end up being sent to a daycare centre, where they are horribly abused by the little kids – and after that it's time for a break-out attempt to find a safe haven, and hopefully a new owner, in a cruel world. It looks every bit as good as its titanic predecessors.
I'm sure it will be.
The other big reveal at the presentation was just what Cars 2 is going to be about. The lead characters this time around still seem to Lightning McQueen and Mater, the tow truck voiced by Larry the Cable Guy, with new addition Finn McMissile thrown into the mix. He's an Aston Martin-looking chap with something of the James Bond about him. Smooth.
Judging from Empire's report, there's more than a whiff of North by Northwest to the film's set up with Mater caught up in "Hitchcockian case of mistaken identity" and "embroiled in a huge spy thriller" though, as expected, nobody believes him. Brad Lewis is making his directorial debut with the film, expected the hit screens in the summer of 2011 and bring billions of dollars of merchandising in its wake.
While the Pixar crew confirmed that the Cars cast would, where possible, return they didn't reveal who they have added to the line up as McMissile. I'm glad it doesn't seem to be Dalton, though – an ex-Bond would be a little too on-the-nose, I think. A little too Dreamworks. I'm much happier for him to be a pretentious toy.
On the matter of Pixar's The Bear and the Bow, of which only concept art was shown and few new details given, all I can find that seems to be new news is the announcement of Julie Walters joining the cast. She's set to play an evil witch, pitched against the 10th century Scottish royal family (the previously announced Reese Witherspoon, Emma Thompson and Billy Connolly). Apparently the focus will be on the mother-daughter relationship between Witherspoon as Merida and Thompson as the Queen. What was that people were saying about female lead characters in Pixar pictures?
The last bit of really big news came as a presentation of production art from Disney's upcoming Winnie the Pooh feature film. This one is set to ape the watercolour style of the books with the white "page" showing through. As for the plot, it will combine five as-yet unfilmed stories from A. A Milne's library of work – by process of elimination, fans should be able to work out which ones. Care to let us know in the comments?