Battle: Los Angeles Adds Cast, Will Be 'Black Hawk Down Meets Alien'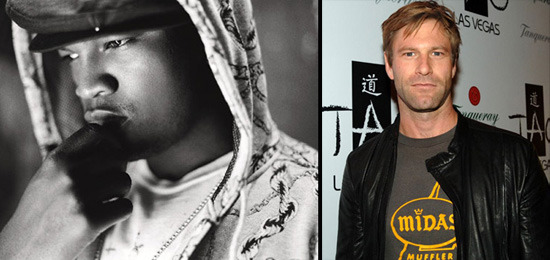 Battle: Los Angeles, the alien invasion action flick that is about to begin shooting in Louisiana (not quite Los Angeles...) has added quite a few cast members, and on the eve of the shoot star Aaron Eckhart makes some promises about what sort of film we're likely to see when it's all said and done.
First up, THR reports that R&B singer-songwriter Ne-Yo has joined the cast. He's perhaps the most high-profile addition, but quite a few others are also on board: Ramon Rodriguez, Taylor Handley, Cory Hardrict, Jadin Gould, Bryce Cass and Joey King also have joined the cast. They'll be alongside big guns Aaron Eckhart, Michelle Rodriguez, Bridget Moynahan and Michael Pena under the direction of Jonathan Liebesman.
And speaking to Sci-Fi Wire (among others) during the junket for Love Happens, Eckhart says "We've got a great shooter [Lukas Ettlin], and he's going to do it like Black Hawk Down meets Alien. So it's going to be real marine stuff. He's going to film it in a very documentary style." That's a pretty tall order. That comparison, Black Hawk Down meets Alien, could (timeline aside) probably be applied to another movie...what was the name...oh, right. Aliens. Eckhart is confident, however. "It's going to be no ordinary aliens movie, I guarantee you that," he says. "It's going to be outrageous. This movie's going to be so great. I go out on a limb in saying that."
Battle: Los Angeles has been gestating for a while, and "revolves around a Marine staff sergeant (Eckhart) and his new platoon's battle against an alien invasion on the streets of Los Angeles. Eckhart plays a Marine staff sergeant while Rodriguez plays CPL Adriana Santos, a member of a radio battalion. Pena plays the father of a boy the Marines find along the way, and Moynahan plays a veterinarian."