The Shrine Teaser Trailer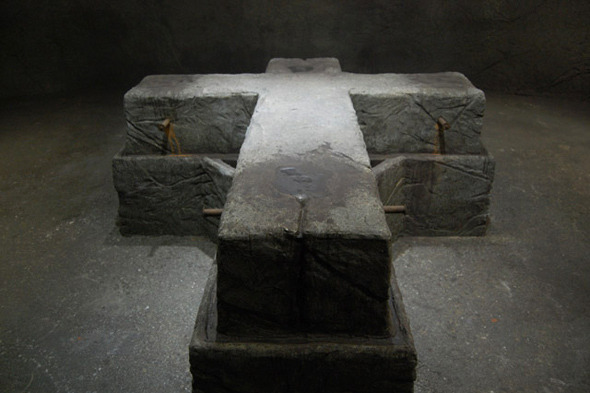 When I first saw the poster for The Shrine, a new serious-toned feature about the occult, it quickly earned a mental note. The poster's ominous imagery (as seen bel0w) perfectly tapped the exploration of a foreign-born religio-horror without giving anything away. And though I later discovered that the film is set in a fictional village in Poland, I couldn't shake the notion that it was tapping into a similar fear of ancient practices as expressed in Song of Kali, the popular Calcutta-set horror novel that creeps me out more than a year later.* But I was thrown off by the film's directror, Jon Knautz, best known for helming Jack Brooks: Monster Slayer, a tongue-in-cheek 2007 B-movie co-starring Robert Englund.
A new teaser trailer has arrived, and while it isn't a flawless counterpart to the poster on par with the one-two knockout of The House of the Devil, it offers a somewhat less enticing prospect of gym-faithful backpackers a la Hostel and The Ruins (so underrated!) meets a Wicker Man-like freakshow. Some of the more generic-looking shots give me pause—namely ones of leather studded, "traditional" wrist-bands. But unlike the newly in-gear Children of the Corn and dozens of other frightfests, it's not a remake, which is nice.
Official plot synopsis: "After a young American backpacker goes missing in Europe, a group of journalists link his disappearance to a remote village in Poland called Alwainia. Upon further investigation, the journalists discover that Alwainia has a history of bizarre cult activity revolving around human sacrifice. Hell bent on discovering the truth, they travel to the small village, but quickly find themselves pursued by a mysterious group set on killing them. Forced into the gruesome reality of true survival horror, the journalist's soon discover that Alwainia hides a much darker secret than they could ever imagine."
Surprisingly not shown (and admirably so) in the teaser are the film's apparent creature-feature aspects. If you're into spoilers and/or '80s-looking succubus monsters rocking hoodies in the name of Druidism, check out the photo gallery of the official site. With a few edits, I do think the film could better play up its 2010 event-status release date, at least amongst the horror set. Here's the aforementioned poster. I find the coinciding shot at the end of the trailer to be the most effective and eerie, what about you?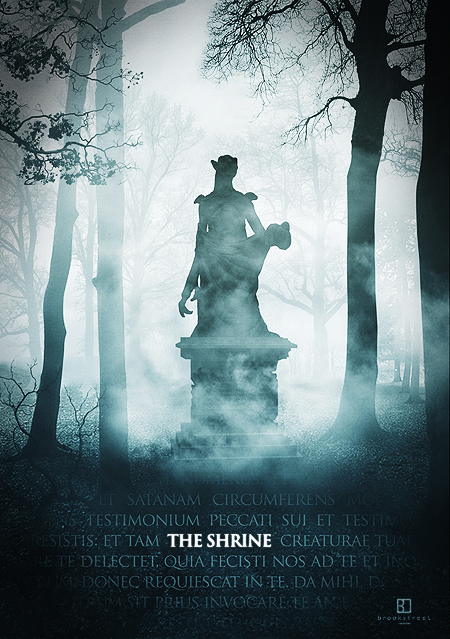 * note: At one point, Darren Aronofsky planned to adapt and direct Song of Kali into a feature film, but it seems that is no longer the case. In light of the zeitgeisty success of Slumdog Millionaire, I'm surprised that it hasn't been put into motion by someone else.