Comics Artist Jock Tweets Judge Dredd And The Losers Movie News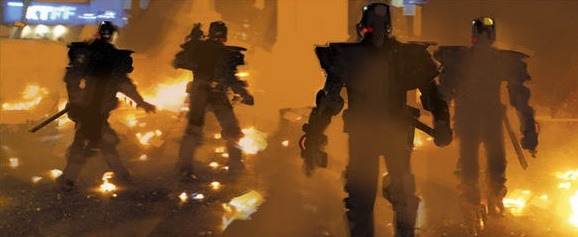 Jock – no surname required, he's just Jock, like Parry or Moses – is a comics artist with a great portion of his impressive portfolio living in the pages of seminal UK weekly 2000AD. He's also a very busy concept artist for the movies, it would seem, or at least for those being adapted from strips he originally illustrated. Perusing his tweets, you'll find not only updates on The Losers, which is currently shooting, but also brief but exciting update on the new Judge Dredd film currently being prepared by Danny Boyle's DNA films.
Here are some of Jock's recent tweets on the subject of The Losers:
a piece done for Warner Brothers, back when they had Jack Nicholson in their sights for The Losers
RT Follow Idris Elba aka @driis our very own Roque from The Losers -you may also know him as Stringer Bell...
small piece of The Losers casting news [Variety announced that Peter Macdissi "will play Vikram, a nuclear scientist who is strong-armed into selling powerful weapons to an American terrorist"]
Fresher than these however, and considerably more interesting, is Jock's tweet from earlier today on the upcoming Judge Dredd reboot:
working through script visuals for Judge Dredd movie. Alex Garland writes a great script.
If I'm not very much mistaken, that's the first real confirmation that it's Garland who will be penning the new picture, not to mention that he's handed over at least some of a screenplay for visualization to begin.
Judge Dredd, in case you don't know, is the antihero of a satirical sci-fi police action strip from 2000AD. It's pretty wild and loud, and blackly ironic and – with the right director at the helm, the right lead actor and the right script – should make for an absolutely astonishing movie.
Garland's previous work for DNA includes The Beach, 28 Days Later and Sunshine. His next collaboration with them to see the light of day will be an adaptation of Kazuo Ishiguro's Never Let Me Go that Mark Romanek is currently shepherding through post production. Perhaps Romanek is the right director for Dredd? I'd like to think he'd do a wonderful job with it, judging from some of his music video work.
Some earlier Judge Dredd concept art by Jock turned up online in January, presumably before he had the specifics of Garland's screenplay to work with. You can see those three images below (courtesy i09).