The Buzz: UK Trilogy Red Riding Kills 'Em At Telluride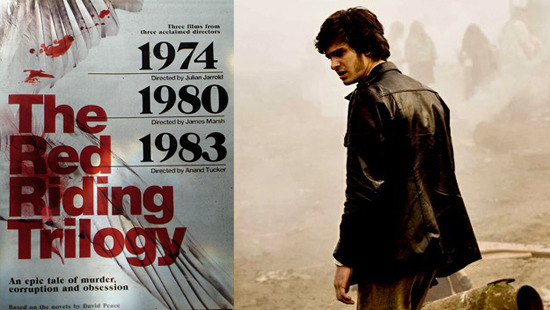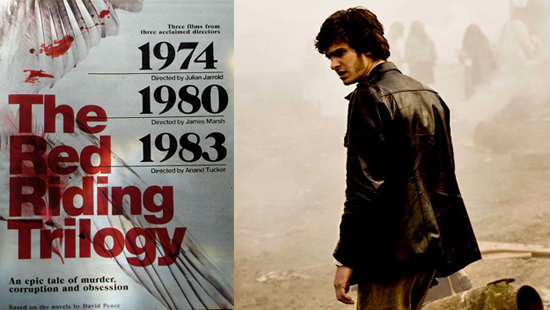 This is what festivals are for, even if you're not able to attend. Scanning the Telluride coverage that came in over the weekend, a few films really stand out. Most of them are known quantities: Up in the Air, An Education, A Prophet. We knew those were ones to watch. But there's another entry in the must-see column out of Telluride. Or, rather, three entries. Suddenly the trilogy of UK films collectively called Red Riding is getting massive praise and buzz.
Red Riding adapts three novels by David Peace: Nineteen Seventy-Four, Nineteen Eighty and Nineteen Eighty-Three. The Wikipedia description of the novels holds true for the films: "Set against a backdrop of serial murders, including the Yorkshire Ripper case, they deal with multi-layered corruption and feature several recurring characters across the four books. Though real crimes are featured the scripts are fictionalized and dramatised versions of events rather than contemporary factual accounts."
The three films were all written Terry Gilliam's frequent co-writer Tony Grisoni, and helmed by three directors: Julian Jarrold (1974), James Marsh (1980) and Anand Tucker (1983). The films were broadcast on Channel 4 earlier this year and are available on DVD in Region 2, but have been picked up by IFC for theatrical distribution in the States. Telluride showed all three in a 300-minute marathon a couple days ago, not unlike the way the Toronto Film Festival presented the three Pusher films a few years back. By and large, they've been tremendously well received. One thing all viewers seem to agree upon is the level of depressing darkness and harsh, realistic brutality. Like the Pusher films, these don't appear to be easy going.
Anne Thompson said of the first film "this noirish tale never lets up as it digs darker and deeper and nastier than you'd ever expect." Jeff Wells says the film is "destined for major cult status." Cinematical gushed "Red Riding...is, collectively, the greatest thing I've seen since I discovered the first season of Twin Peaks on DVD." The Playlist was equally impressed, comparing the films to the work of James Ellroy (a big selling point for me) and calling the trilogy "easily one of the cinematic highlights of the year." Variety and a few others also raved, but I think you get the point.
Part of the appeal is the cast, which is full of new and established talent. Peter Mullan, Andrew Garfield, David Morrissey, Paddy Considine, Sean Bean  and Mark Addy all appear in various stages. The technical details of each film are interesting, too, as they form a progression. 1974 was shot on 16mm, 1980 on 35mm and 1983 on the RED One camera, so each has its own specific visual look.
The voice of dissent from the festival weekend came from In Contention's Kris Tapley. In a comment on one of Jeff Wells' Hollywood Elsewhere posts, he called the films "quite derivative and contrived... borderline TV procedural drama." But a further comment from Tapley puts it into perspective somewhat: "David Thomson is calling it better than The Godfather and one of the 10 best films ever, for Christ's sake," so in that case maybe dialing back the buzz a bit is a good move. Regardless, the three films hadn't been on my radar before and they are now. There's an excellent video store in Atlanta that often stocks R2 discs (Videodrome; all ATL-area readers should support them!) so I'm going to head over there and see if they've got the UK discs to rent tonight.