First Clip From Jason Reitman's Up In The Air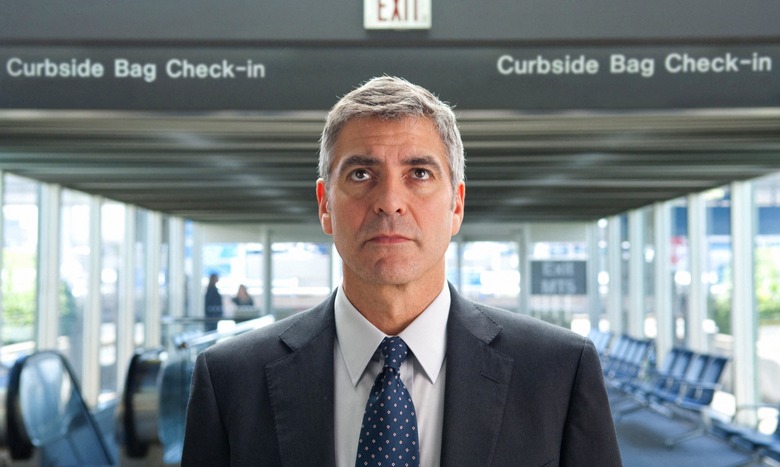 If you checked the Internet at all over the weekend, you saw that Jason Reitman's third film, his adaptation of Walter Kirn's novel Up in the Air, did exceptionally well as it debuted at Telluride. (Peter has thoughts on the movie via a video blog and proper review.) In anticipation of the first teaser trailer, which will be arriving soon, Apple has a clip from the film.
Here you'll see the film sold as a straightforward, if quite well-made romantic comedy. Clooney's character Ryan Bingham, a corporate downsizer who constantly flies around the country delivering bad news, meets Alex (Vera Farmiga), another dedicated traveler. They compare milage plans and get into a little fun, silly innuendo over the size of his annual tally of miles flown.
But according to those who caught the film at Telluride, that's not all there is to the movie, by a long shot. There's a romantic comedy angle, but that seems to be the hook more than anything else. Reitman called this "the most personal movie I've made and [it] could be the most personal movie I'll ever make." More than anything else, that's what has me ready to check it out.
Without having seen the teaser, this clip does make me wonder if the movie is going to be a tough sell, or if it will require some misdirection. Because it's well and good for the film to wow critics at festivals and for someone like Anne Thompson to exclaim that it perfectly captures the zeitgeist, and quite another to get people to shell out ten bucks for a movie about unemployment at a time when the country's own unemployment rating is nearing ten percent. It's romantic, cute banter between Clooney and Farmiga that will get people into Reitman's personal movie, and if that's what it takes, fine. Let's have a couple fun trailers and then get to the real thing.