Nicolas Cage To Board Thriller The Hungry Rabbit Jumps, Drops Out Of The Green Hornet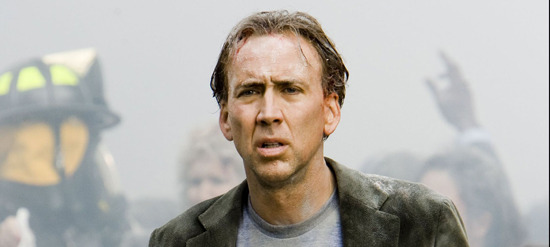 UPDATE: Spoke too soon on the Green Hornet deal below. THR reports that Cage has officially dropped out of Gondry's movie. He had not yet shot any scenes. (He'd never 'officially' joined the cast.) Columbia, Gondry and the producers will commence the search for a new villain; expect to hear that casting fairly soon. Original article follows.
Nicolas Cage seems to be making movies left and right — he's finished The Sorcerer's Apprentice, Bad Lieutenant and Kick-Ass, may well be the bad guy in The Green Hornet, will be starring in Drive Angry, and now is jumping onto a sort of revenge thriller called The Hungry Rabbit Jumps. Anything that keeps him from making another Ghost Rider movie, right? (Or would you prefer that he be safely confined within that sequel rather than bringing that hair to new projects?)
THR's new Heat Vision blog reports on the film. The plot sounds fairly close to that of Law Abiding Citizen: Cage is "a man whose wife is the victim of a brutal crime. He subsequently becomes entangled with an underground vigilante organization." What potentially elevates it is director Roger Donaldson. Not all of his movies really hit, but the good ones (Thirteen Days, The Bounty) are pretty fantastic. It's been a few years since he had one of those (though The Bank Job was enjoyable enough) that maybe he's due.
Maybe I'm insane, but I'm still ready to see Cage in movies. Even when he's terrible, which has been often recently, he's a hell of a lot more entertaining than most other stars. If I'm going to watch an otherwise forgettable studio flick I'd rather be enticed by the potential of another Wicker Man than have someone more bland sleepwalking through the project. The obvious counter-argument there is that some of these movies could be potentially great with a better actor, but I figure the odds there are really 50/50 either way.
Too bad we don't know more about writer Robert Tannen's work; his only produced screenplay became a film called Even Money in 2006. The script for The Hungry Rabbit Jumps has been in the hand of Endgame, and their producer Jim Stern says of Rabbit "In the best of the Hitchcockian tradition, we've got a character who's offered the chance for vengeance and he finds himself in over his head." Endgame is producing with Tobey Maguire's Maguire Entertainment.