Cool Stuff: More Lost Art - Eric Tan's "The Crash"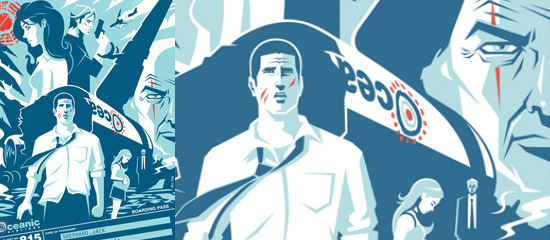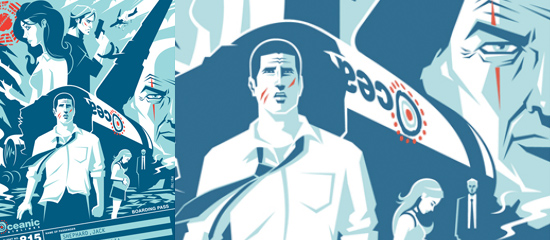 The DamonCarltonAndAPolarBear.com Lost-Inspired art viral is still going strong. The first frame was a Hurley-inspired print by Tim Doyle. Two weeks ago they revealed a new Locke-inspired poster created by UK artist Olly Moss. And last week they revealed a Dharma Van print by Methane Studios. Today Lostites were directed to visit Crumbs Bakery on Wall Street store or the LA Larchmont store for a clue, which turned out to be employees wearing the Dharma jumpsuits. The suits included the url to the newest art site : ICanGetYouPeanutButter.com, which features a poster by Eric Tan. "The Crash" is printed on 18 x 24 inch paper. It will be available for purchase at noon eastern time for $50, hand signed, limited edition of 300. Check out the full print after the jump, and as always, click to enlarge. This one is sure to sell out fast.
We've featured many of artist Eric Tan's creations in past Cool Stuff columns: we've spotlighted his work for past Pixar productions, X-Men, among other things. Tan has been creating a series of posters for the Indiana Jones film series. You can see his Raiders of the Lost Ark and Temple of Doom posters in our linked Cool Stuff articles. See the full poster after the jump.Cool Stuff is a daily feature of slashfilm.com. Know of any geekarific creations or cool products which should be featured on Cool Stuff? E-Mail us at orfilms@gmail.com.