Children Of Men Screenwriters Are Developing Live-Action Akira Movie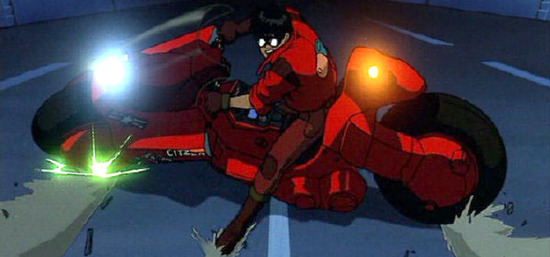 Warner Bros' live-action adaptation of Akira is not dead afterall. Collider has confirmed that screenwriters Mark Fergus and Hawk Ostby are hard at work on the project.
Fergus and Ostby wrote earlier drafts of Children of Men and are credited with Iron Man. The screenplay is set in a post-apocalyptic "New Manhattan" and will feature Akira's famous red motorcycle. The original Katsuhiro Otomo anime was set in a futuristic and post-war city, Neo-Tokyo, in 2019. Let's just hope it doesn't end up looking like THIS. The film has been in development by Warner Brothers and Leonardo DiCaprio's production company Appian Way for some time, and Gary Whitta (The Book of Eli) had previously worked on the project.
Here is an excerpt from a previous posting by Russ Fischer:
No cast has ever publicly revealed to be attached. The involvement of Appian Way led many to suspect that DiCaprio would star as the teen biker Kaneda, despite being demonstrably too old for the part, but the actor publicly denied any involvement beyond producing duties. Joseph Gordon-Levitt was rumored to be in mind for Tetsuo, the friend of Kaneda whose psychic powers are awakened, setting of a cataclysmic chain of destructive events in Neo-Tokyo. He also denied any attachment.
Frankly, it's difficult to see why Warner Brothers would move forward with the film(s) after Watchmen failed to become a breakout hit. Akira is similar in that it is highly conceptual with a complex character structure, a great deal of plot and backstory to communicate and, if done in properly detailed fashion, would be wildly expensive. Doing the film on anything less than a grand scale would be to miss the point. With an intricately detailed anime already in existence (and one which struggles to tell the story, even with the scope reduced from that of the manga, which had not completed publication when the film was made) why make a new feature that was forced to scale down?
In the wake of the WGA strike that ended in February '08, plans were once announced to fast-track the first film for release this summer. That obviously didn't happen, in part because the script didn't come together in time. Yet I'd held out an almost perverse hope that Appian Way could bring the project to fruition. I'm no great fan of the anime (despite its great visual splendor) but would have liked to see something as epic as a two-film Akira adaptation hit screens, in part because of how financially and artistically risky it would be.